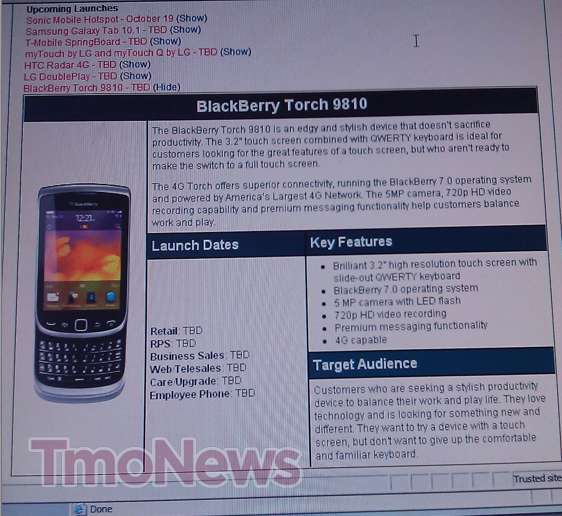 Blackberry lovers on T-Mobile fear not as we've got one more screenshot showing the Blackberry Torch 9810 in all it's T-Mobile internal system glory. Without an official release date we're sticking with a November 9th release date at an unknown price. We certainly hope T-Mobile and Blackberry have taken note of the feedback regarding the Bold 9900 pricing and will bring the Torch 9810 in a more ideal price level.
T-Mobile says the Blackberry Torch 9810 is perfect for those individuals who want to try a device with a touchscreen but don't want to give up that comfortable keyboard feeling. There is no question in my mind that Blackberry makes one of the best keyboards around but can the Torch grab attention from those who are otherwise eyeballing the myTouch 4G Slide?
Blackberry still has a lot to prove to users that they are willing to keep up with the marketplace around them and I'm not sure if the Torch 9810 will grab a lot of T-Mobile marketshare with all the Android possibilities hanging around.