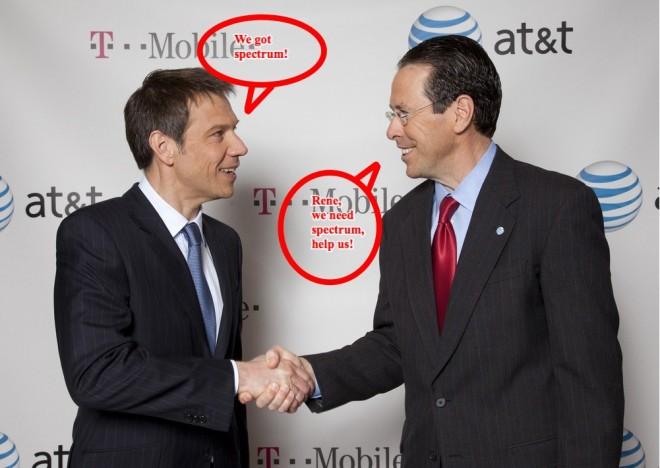 We await the outcome of this afternoon court hearing and AT&T's efforts to do all it can to get an early hearing date to salvage it's proposed T-Mobile acquisition. However, if the deal falls through, collapses or is outright rejected a Reuters suggest analysts expect that both AT&T and T-Mobile will try and strike a network-sharing arrangement which would work around the regulatory heat that surrounds this deal and give each company access to additional spectrum capacity.
"They've done a lot of work with AT&T figuring out the network synergies. They'd be able to achieve a significant amount of that without a merger," said Roe Equity Research analyst Kevin Roe about Deutsche Telekom and T-Mobile USA.
A source close to the case told Reuters that there has been no movement toward a settlement and that the likely outcome is a completely restructured deal to satisfy regulators and anti-trust officials.
At the time AT&T and T-Mobile struck their deal, Deutsche Telekom was currently in talks with five separate parties looking to bid for T-Mobile. Any win by the government would likely prohibit Verizon and Sprint from also approaching AT&T with a counter-offer as that deal would likely face the same additional regulatory pressure.
Deutsche Telekom would still have the option of spinning off their U.S. business as a separate and publicly traded company but analysts doesn't see this as a viable option. A T-Mobile USA spin off would require huge operating improvements and few analysts envision Deutsche Telekom pouring billions of dollars into T-Mobile to turn around the business. Deutsche Telekom would be free to look at network agreements with alternative companies as well and was rumored to be in talks with Clearwire at the time of the AT&T announcement. However, Clearwire is likely to ask for an investment in the network in exchange for spectrum sharing that would leave AT&T as the least expensive network partner. Given that Deutsche Telekom has continued interest in working to get the AT&T deal done as is. The break-up fee that DT would earn from AT&T would provide it some short-term options but it wouldn't resolve any long term issues with T-Mobile USA.