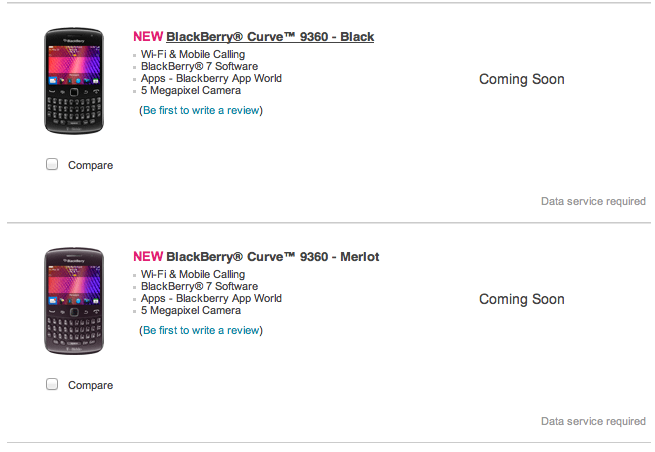 Update: Not 5 minutes after we post that the Curve 9360 have been discovered on T-Mobile.com as coming soon, we receive an email announcing the official launch! The Curve will be available in an exclusive pre-sale for business customers beginning today, September 21 and available at T-Mobile retail stores on September 28th for everyone. The exclusive Merlot color will be available starting on October 12th. The Blackberry Curve 9360 will be available for $79.99 after a $50 mail-in-rebate. 
We're not entirely sure when the Blackberry Curve 9360 first appeared on T-Mobile.com but a number of you caught it this morning so we imagine it hasn't been up there for long. T-Mobile has it marked as "coming soon" and with all the materials retail stores are receiving we're still holding out hope that this phone will launch sometime in the next few weeks. Provided today is Wednesday and T-Mobile's common launch day for devices we're now looking to next week for a possible launch.
The BlackBerry Curve 9360, the next generation of the Curve family, is launching on September 28. This powerful, compact device is the thinnest BlackBerry Curve to date and features the new BlackBerry 7 OS, a full QWERTY keyboard, and pre-loaded apps like Cequint Caller ID, MobiTV, and TeleNav. The Curve 9360 also comes with a 5 megapixel camera and is able to support Wi-Fi calling right out of the box.

The simple and intuitive interface makes this affordable smartphone a great fit for any customer looking for a device with the tools to help them coordinate their social life, family, and work. The Curve 9360 will come in two colors: merlot, which will be exclusive to T-Mobile, and black.