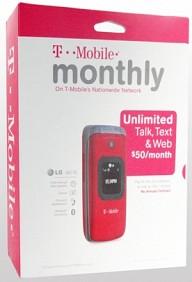 T-mobile is taking steps to make access to America's largest 4G network even easier.  How, you may ask.  Easy, parter with 7-Eleven, a chain with over 7,000 locations in the United States.  Starting today, customers can pick up a pre-paid LG GS170 for $29.99 all around the country.  It can even get better.  With the purchase of a 50 minute airtime card you can get the LG GS170 for half off, as long as you take advantage of this offer in August.  I'll still take a Slurpee, please.
T-Mobile USA and 7-Eleven Partner to Provide Convenient Prepaid Handset, Service

T-Mobile now offers prepaid device at participating 7-Eleven® stores nationwide

Bellevue, Wash. and Dallas, Texas — Aug. 2, 2011
2011-08-02 00:13:57Today, T-Mobile USA, Inc.  and 7-Eleven, Inc. announced the availability of a T-Mobile prepaid, no term contract handset in the retail chain's 7-Eleven® stores. The affordable handset works with T-Mobile's prepaid plans and services that run on its nationwide 4G network.

7-Eleven, one of the first convenience retailers to recognize customers' desire for affordable, no term contract airtime, began offering prepaid cards in 1994. The addition of the T-Mobile handset provides 7-Eleven customers with brand-name service at a value price for those who prefer prepaid products.

Starting Aug. 1, 7-Eleven customers will have convenient access to an affordable         T-Mobile prepaid handset, the LG GS170. Available for $29.99 (plus taxes and fees), the LG GS170 offers an intuitive user interface with one-touch speakerphone, large visible keys and a high-resolution color display. In addition, the LG GS170 features a VGA camera, MP3 ringtone capability, Bluetooth® 2.1, text and picture messaging capability, and email support packaged in a sleek, pocket-size design.

As part of the expanded partnership, customers can take advantage of a special, limited-time promotion. Throughout the month of August, the LG GS170 price will be half-off with the purchase of a $50 airtime card at 7-Eleven stores.

"Industry projections indicate that prepaid service will continue its growth trajectory and is expected to comprise a significant portion of the wireless market within the next several years," said Amy McCune, vice president of national retail for T-Mobile USA. "We believe 7-Eleven's customers who seek accessibility and convenience will love this prepaid phone. They can expect to receive the high-quality customer service and access to a nationwide 4G network that T-Mobile users have come to expect."

7-Eleven customers can join America's Largest 4G Network™ with T-Mobile's affordable No Annual Contract Monthly4G plan. The $50-per-month plan offers unlimited talk, unlimited text and unlimited Web with no overage charges and the first 100 MB of data at up to 4G speeds*.

"We were one of the first in our industry to offer prepaid phone service and continue to see an opportunity to provide customers with easy and accessible wireless service, which is why we've looked to T-Mobile to expand our prepaid handset offerings," said Jesus Delgado-Jenkins, 7-Eleven's senior vice president of merchandising, marketing and logistics. "To give you an idea of how many prepaid transactions we conduct, consider that if all the prepaid cards sold on an average day at 7-Eleven stores were placed end to end, they would span more than 30 football fields."

Monthly4G plans provide access to wireless service for 30 days; capable device required to achieve 4G speeds. After high-speed allotment is used, speeds slowed to up to 2G speeds for remainder of month. T-Mobile's HSPA+ 4G network not available everywhere. See coverage details at T-Mobile.com.