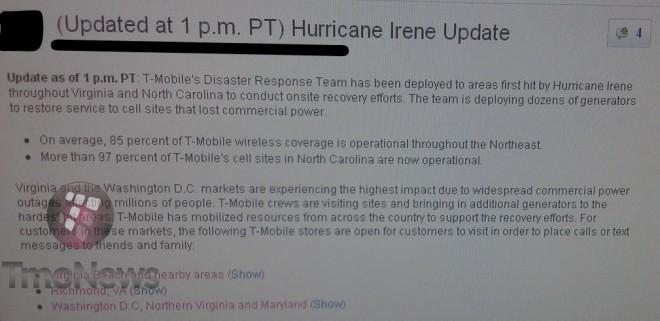 T-Mobile provided a quick update to their service restoration efforts letting all of their customers know that they are working hard to keep the network up and running for all the areas affected by Hurricane Irene. As of 1pm Pacific Time they were running at 85% operational service and we imagine they've already increased that number since the press release was issued.
How did T-Mobile service work for you during Hurricane Irene?
T-Mobile USA, Inc. today issued an update on its efforts to restore its wireless network in North Carolina, Mid-Atlantic and Northeast regions affected by Hurricane Irene. 
Following is updated information from T-Mobile as of August 28 at 2:00 p.m. EDT: 
T-Mobile's Disaster Response Team has been deployed to areas first hit by Hurricane Irene throughout Virginia and North Carolina to conduct onsite recovery efforts. The team is deploying dozens of generators to restore service to cell sites that lost commercial power. 
On average, 85 percent of T-Mobile wireless coverage is operational throughout the Northeast. 
More than 97 percent of T-Mobile's cell sites in North Carolina are now operational. 
Virginia and the Washington D.C. markets are experiencing the highest impact due to widespread commercial power outages affecting millions of people.  T-Mobile crews are visiting sites and bringing in additional generators to the hardest hit areas. T-Mobile has mobilized resources from across the country to support the recovery efforts. 
For customers in these markets, the following T-Mobile stores are open for customers to visit in order to place calls or text messages to friends and family: 
Virginia Beach and nearby areas:
Lynnhaven Mall: 701 Lynnhaven Pkwy, Ste F01A, Virginia Beach, VA, 23452
Lynnhave Parkway & Sabre Street: 660 Phoenix Dr, Virginia Beach, VA, 23452
Landsdowne Commons: 3388 Princess Anne Rd, Virginia Beach VA, 23456
Virginia Beach BLVD & Independence BLVD: 233 Independence Blvd, Ste 103, Virginia Beach, VA, 23462
Patrick Henry Mall: 12266 Jefferson Ave, Space C, Newport News, VA, 23602
Macarthur Mall: 300 Monticello Ave, Space 164, Norfolk, VA, 23510
Military Circle Mall: 880 N. Military Hwy, Space 1083, Norfolk, VA, 23502
Millennium Crossing: 1153 N. Military Hwy, Ste A, Norfolk, VA, 23502
Power Plant: 2067 West Mercury Blvd, Hampton VA, 23666
Crossways Shopping Center: 1600 – B Crossways Blvd, Chesapeake, VA, 23320
Portsmouth Victory Crossing: 4032 Victory Blvd, Ste F, Portsmouth, VA, 23701 
Richmond, VA
8800 Staples Mill Rd, Richmond, VA 23228 
Washington D.C, Northern Virginia and Maryland
Majority of stores open.  Please check t-mobile.com for nearest store.