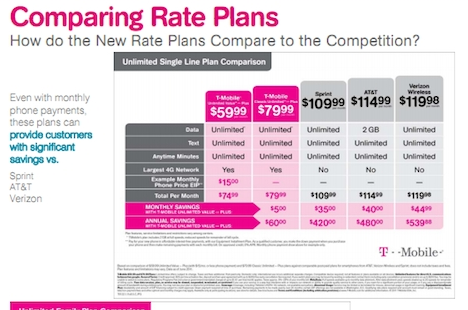 I'm Pretty sure we have beaten this to death had you covered on this one for a while now, but now it's official and it's what we thought it was.  T-Mobile has issued their midnight press release regarding the new Value and Classic Plans that will be available on the 24th of this month.  Feel free to look over the details, or our breakdown, and you should be set to go.  Hey, maybe you, or someone you know, will end up saving some good money!
T-Mobile Unveils Affordable And Worry-Free Unlimited Data Plans

New T-Mobile Value plans make the latest 4G smartphones

and wireless services affordable for all

BELLEVUE, Wash. — July 20, 2011 — T-Mobile USA, Inc. today announced new Value plans, making it more affordable than ever to step up to data on America's Largest 4G Network™. Featuring flexible pricing for unlimited data and available with affordable monthly payments on any of T-Mobile's phones and mobile broadband devices, including the latest 4G smartphones and tablets, the new Value plans could save customers hundreds of dollars annually.

Slated to be available beginning on July 24, the new plans build on T-Mobile's commitment of offering affordable, consumer-friendly plans in tune with the evolving needs of wireless customers. Available with a two-year agreement for new and existing customers, the Value plans offer single-line and multiline options with a range of price points for talk, unlimited text and unlimited data with 2 GB, 5 GB or 10 GB of high-speed data — with no data overage charges. Customers can choose from a variety of monthly plans and only pay for the high-speed data they need.

"T-Mobile is committed to making the always-on benefits of smartphones and tablets more accessible and worry-free for all Americans," said John Clelland, senior vice president, marketing, T-Mobile USA. "Customers want to enjoy all that the mobile Web has to offer, but they don't want to pay for more than they need or worry about bill shock. Our incredible value comes from the combination of our nationwide 4G network, exceptional device portfolio and affordable plans that offer unlimited data access without overages."

With the new Value plans, customers are empowered to purchase any product in

T-Mobile's innovative device lineup or bring their own device and have access to the company's best pricing. With no overages on the new unlimited plans and flexible terms, customers can pick the wireless data plan that best fits their needs and choose how they want to pay for their device. Value plan customers who purchase a device can pay an upfront down payment on a new device and make low, interest-free payments for the full price of the product while still getting T-Mobile's best available rates on monthly service.* T-Mobile will continue to offer its traditional plans under the new T-Mobile Classic plan brand, previously called Even More™ plans.

For example, T-Mobile's new Value family plan with unlimited talk, unlimited text and unlimited data with 2 GB of high-speed data is just $49.99 per line for two lines. Even with the addition of purchasing two smartphones, such as the T-Mobile myTouch® 4G Slide, on T-Mobile's Equipment Installment Plan, customers may yield savings of more than $800 annually. *

"Families are looking for ways to affordably include mobile data so the kids can communicate via social networking, watch YouTube and surf the Web without parents breaking the bank," said Tole Hart, senior analyst with Yankee Group. "Plans that help them get more while paying less will get a lot of attention."

T-Mobile also will offer a robust lineup of mobile broadband service options under both the new Value and Classic plans. For instance, customers could add an overage-free mobile broadband Value plan to their voice service for $19.99 per month with 2 GB of high-speed data for products, including laptop sticks, tablets and the T-Mobile 4G Mobile Hotspot, which allows a family to share their 4G mobile connection with up to five Wi-Fi devices using a single mobile broadband connection.

T-Mobile's new Value and Classic plans are expected to be available beginning July 24. In addition to the unlimited Value and Classic plans, T-Mobile also will introduce new Value plans for small business customers this summer with additional details available in the coming weeks.

T-Mobile continues to offer no annual contract plans with itsMonthly4G plans, as well as Pay As You Go plans for as low as 10 cents per minute for voice calls. More information on T-Mobile's service plans is available at http://www.t-mobile.com.

* Based on comparison of $99.98 Unlimited Value — Plus Plan (two lines), with a $15 per month smartphone payment per line, against comparable post-paid family plans for smartphones from Sprint, AT&T and Verizon Wireless; does not include taxes and fees. T-Mobile myTouch® 4G Slide is available for a down payment of $249.99, with 20 additional monthly payments of $15; O.A.C., 0 percent APR. Plan features and limitations may vary among carriers. Data as of July 2011.

T-Mobile's HSPA+ 4G network not available everywhere. See coverage details athttp://www.t-mobile.com.

About T-Mobile USA, Inc.

Based in Bellevue, Wash., T-Mobile USA, Inc. is the U.S. wireless operation of Deutsche Telekom AG. By the end of the first quarter of 2011, approximately 128 million mobile customers were served by the mobile communication segments of the Deutsche Telekom group — 33.6 million by T-Mobile USA — all via a common technology platform based on GSM and UMTS and additionally HSPA+/HSPA+42. T-Mobile USA's innovative wireless products and services help empower people to connect to those who matter most. Multiple independent research studies continue to rank T-Mobile USA among the highest in numerous regions throughout the U.S. in wireless customer care and call quality. For more information, please visit http://www.T-Mobile.com. T-Mobile is a federally registered trademark of Deutsche Telekom AG. For further information on Deutsche Telekom, please visit www.telekom.de/investor-relations.

For more information about T-Mobile's 4G products, please visit http://www.t-mobile.com.