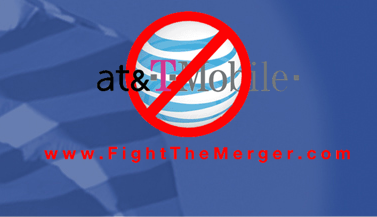 This has to be one of the most interesting developments in this merger case, if you ask me at least.  11 AT&T customers have gone to the New York-based law firm of Bursor & Fisher to help file an arbitration demand against AT&T, proposing that the merger will be in violation of the Clayton Antitrust Act.  Attorney Scott Bursor discuses the grounds for this arbitration:
 "Government enforcement is an important part of the antitrust laws, but the Clayton Act also permits private parties who may be adversely affected to challenge a proposed merger.  That means any AT&T cellphone, data or iPad customer who will suffer higher prices and diminished service because of this merger can sue to stop it from happening."
This firm has set up a website to hopefully gather many more personal arbitration cases to help fight the merger (LAWYERED).  Real people, taking a stand, I love it.
In Addition to AT&T customers, DISH Network has joined the opposition, siding with Senator Kohl"
"Chairman Kohl's thoughtful and thorough letter urging the FCC and U.S. Department of Justice to reject the proposed AT&T/T-Mobile merger reflects the chairman's experience as a business owner as well as his record as a legislator. Competition is the life-blood of a market economy, and Chairman Kohl correctly asserts the harm to competition that this merger would inflict."
Things are getting heated, or as heated as they can in the legal realm.