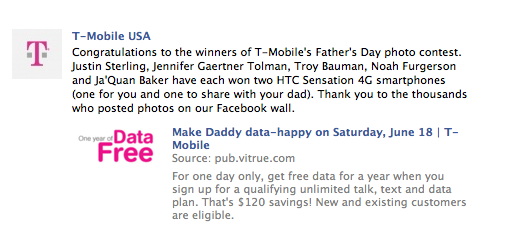 Congratulations to the just announced winners of T-Mobile's 2011 Facebook Photo Contest for Father's Day. Ten lucky winners won the grand prize of the HTC Sensation 4G, one each for father and child! T-Mobile began this contest early this past week with a chance to post a photo of you and your father, or you and your child or someone you looked up to as a child with a chance to win an HTC Sensation 4G for you and the person in the picture. A great way to celebrate Father's Day with the one you love is to hand them over 4.3″ of Android Sense 3.0 goodness!
Congratulations to the winners!
Want another chance to win an HTC Sensation 4G? Check out Twitter Tuesday night!