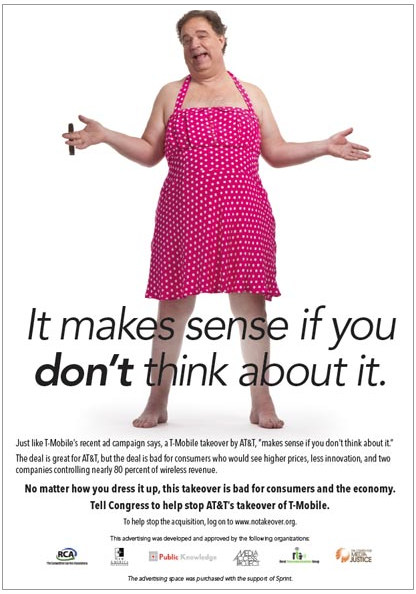 If by some odd chance you didn't already know that Sprint wasn't exactly a fan of the proposed AT&T/T-Mobile merger, perhaps this ad will show you they aren't. This Satirical ad which is clearly a take off of the Carly ad campaign features a shady businessman with a cigar wearing an awfully familiar pink dress.
"No matter how you dress it up, this takeover is bad for consumers and the economy. Tell Congress to help stop AT&T's takeover of T-Mobile."
The ad ran in the National Journal Daily, Politico, RollCall and newspapers in the hometowns of several of the committee members at todays Senate hearing. Unfortunately the ads shelf-life was short lived as Transgendered communities began complaining to the groups supporting the ad and Sprint confirmed they were pulling the ad.
"We believe the proposed transaction is really bad for consumers, the industry and the country," a Sprint representative said. "We supported these efforts to get that message out broadly to consumers. We certainly apologize the material offended anyone. That was not our intent."