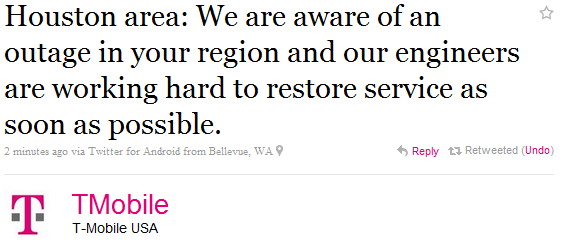 Houston, we have a problem! We've received word from our readers that there seems to be an outage in the Houston area, and just now T-Mobile has confirmed the outage via Twitter.
T-Mobile states that they are indeed aware of the issue and their engineers are working hard to restore service to the Houston area as quickly as possible. We'll let you know more on the outage when we hear more!
Are both data and phone services down for our Houston readers? Let us know in the comments!
[Via T-Mobile Twitter]
UPDATE:
Andddddd we're back! T-Mobile states service has been restored to Houston residents! Anyone still experiencing issues?
Official Word:
T-Mobile customers in parts of Houston experienced a temporary voice and messaging service disruption this afternoon. The disruption was due to a cut fiber line within the network of a third-party provider to T-Mobile. We apologize for any inconvenience this may have caused.