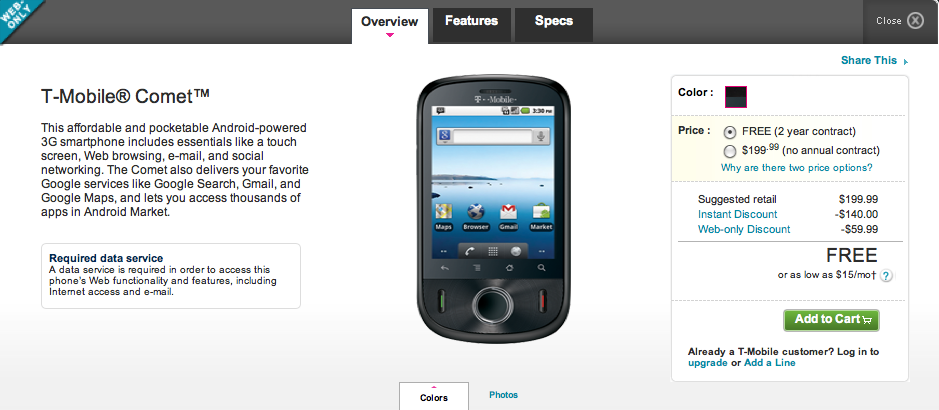 Today is an exciting day in the world of T-Mobile.  Handsets are dropping, the network is popping and people are talking.  While the news of T-Mobile's 4G marketing campaign and the launch of the myTouch4G are dominating headlines, we can't forget that today marks the arrival of the T-Mobile Comet, Motorola Defy and LG Optimus T.
The LG Optimus T, available for $29.99 after a $50 mail in rebate or $199 retail, offers a great entry device into the world of smartphones and Android.  Wi-Fi calling, 3.2 megapixel camera and the whole range of Google services are at your disposal.
The Motorola Defy packed with the love it or hate it MOTOBLUR on board comes in at $99.99 after a $50 mail in rebate or $379.99 retail.  Ready to handle all of the elements, the Defy is the phone most willing to take a beating in the T-Mobile lineup.  You can dunk it in water or drop it down a flight of stairs and it will keep on ticking, though, of course, we don't recommend you try either of those things.  If you are looking for a better deal on the Defy on contract, Walmart will gladly take your $48.88 and hand one over to you.
The T-Mobile Comet is one heck of a great deal coming in at only $9.99 for a smartphone or you can pick it up on T-Mobile.com for free but who knows how long that deal will last so act fast!  Packed with the smartphone essentials, the Comet is the perfect choice to welcome someone into the Android and smartphone world.