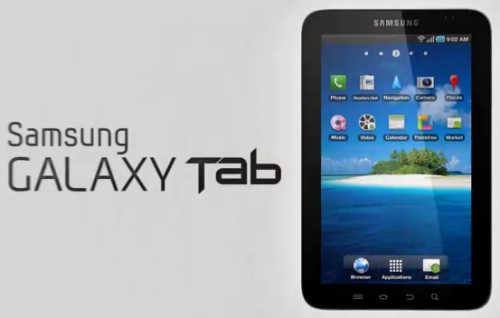 With yesterday's handset confirmations, comes even more good news! Samsung today announced in New York City that their Samsung Galaxy Tab will be headed to all four major U.S carriers, including T-Mobile USA. The Galaxy Tab will be Magenta's very first tablet. Sporting a 7-inch 1204 x 600 WSVGA resolution display, a 1.3 megapixel front facing camera and 3 megapixel rear camera, a 1GHz HummingBird processor, along with the latest Android 2.2 (Froyo), the Galaxy Tab will be available just in time for the holidays. As of now, pricing is unknown, but rest assured we're working on it! Official press release below! Don't forget to leave your thoughts in the comments!
UPDATE: We've added some promo videos below of the Galaxy Tab for your viewing pleasure!
UPDATE 2: According to the folks over at MobileBurn, during the press conference, Samsung announced that the U.S. versions of the Galaxy Tab will not offer voice capabilities, although the European version of the device does.
Press Release
T-Mobile Extends Android Lineup With Its First Mobile Tablet, Samsung Galaxy Tab™
T-Mobile's first tablet to offer powerful Web and entertainment experience for customers at home and on the go
BELLEVUE, Wash. — Sept. 16, 2010 — T-Mobile USA, Inc. and Samsung Telecommunications America (Samsung Mobile), the No. 1 mobile phone provider in the United States1, today announced the first mobile tablet in T-Mobile's Android™ portfolio, the Samsung Galaxy Tab™. A powerful, entertainment device ideal for home or on the go, the Galaxy Tab features a vibrant seven-inch touch screen, speedy processor and the Android 2.2 operating system all in a sleek and compact form factor.
T-Mobile customers will enjoy a rich, brilliant viewing experience on the Galaxy Tab, which features a WSVGA enhanced TFT display combined with 3D-like graphics and full support for Adobe® Flash® Player 10.1 for accessing Flash-enabled websites, watching video and playing games. Running on T-Mobile's super-fast mobile broadband network and with built-in support for Wi-Fi, the Galaxy Tab's portable screen is ideal for watching the latest movies and entertainment or experiencing thousands of Android Market™ widgets, games and applications. In addition, T-Mobile's Galaxy Tab will include the Samsung 1GHz Cortex A8 Hummingbird Application Processor, supporting smooth Web browsing, a rear-facing camera for photo capture and sharing, and a front-facing camera for video chat.
"On the heels of our popular Samsung Vibrant™, we are excited to work with Samsung yet again to offer another premium Android-powered device to our customers," said Britt Wehrman, vice president, product management, T-Mobile USA. "Tablets are a natural extension of our mobile broadband portfolio as T-Mobile continues to provide customers with new and compelling ways to enjoy Web and entertainment while on the move."
The Galaxy Tab also provides easy access for downloading and listening to music, updating social networking status in real time, navigating with Google Maps™, and staying connected to friends and family through e-mail, text, IM, and video chat. Similar to the rich experience on the Samsung Vibrant, the Galaxy Tab will feature Samsung's Social Hub application, as well as Samsung's new Media Hub content service, providing access to a robust library of premium movies and TV episodes.
Availability
The Galaxy Tab is expected to be available to T-Mobile customers this holiday season. For more information about T-Mobile products and services, please visit http://www.T-Mobile.com.