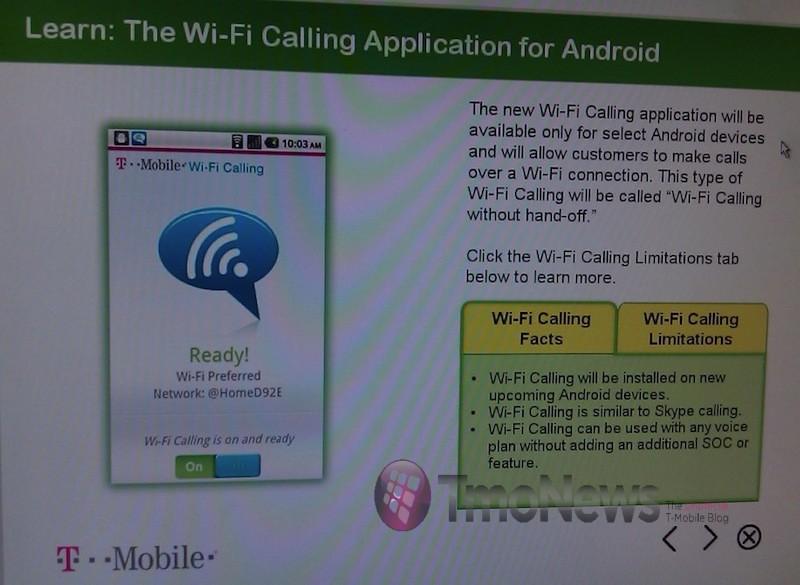 The last couple of weeks have seen us discuss both on the blog and in our forums the lack of Android and UMA or Wi-Fi calling services and our desire to see it come to Magenta.  We've seen our hopes rise with the introduction of a Kineto Wireless service that is capable of bringing UMA to Android as demonstrated on a Samsung Vibrant.  Nothing gives me more hope than the following images that I present to you on this fine Sunday morning.  You'll find two images that showing training screen(s) for employees showing off the upcoming addition of UMA to the Android platform.  Most important and what gives me more confidence in the accuracy of these images is the shot of the T-Mobile G2 received separately that shows the same icon as seen on the training screen images.  Of course, we can't forget the image we posted earlier this week of the LG Optimus which also gave hope to Wi-Fi hotspot calling.  Things are looking good here!
However, before you run around the room screaming with excitement, we should mention a few things:
1)    As far as we've been told, there is at least one limitation with this new offering: there will be no handoffs to the mobile network like the current UMA services offer.  If you leave the wifi coverage area, the call will drop.
2)    This will NOT be available to all Android devices.  We were told it would be available only to "select new devices."  You won't be able to get it from the Android market and it's possible devices will be getting OTA updates to activate the feature.  The above image looks like the shot came from the G2, as did our own picture down below. The second shot, however, looks like it might have come from a Samsung Vibrant so it's possible that device would receive an update to this as well!  Though at this point, which phones would receive this feature is anyone's guess.  Then again, we obviously have a great argument for both the G2 and the LG Optimus!
Let us point out that there has been no indication this feature will come right out of the box for the G2 so don't lose hope if the phone doesn't arrive October 6th with Wi-Fi calling activated.  It's possible that the feature will be deployed via a future software update!