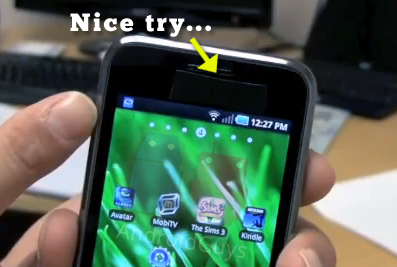 The last month or so has seen at least two occasions where I, on behalf of the readers have expressed disappointment that UMA Wi-Fi calling had yet to come to Android. Thankfully, the folks at Kineto Wireless hope to change that with the introduction of their Smart Wi-FI Application for Android 2.2.
Kineto Wireless has announced that they have updated their Smart Wi-Fi application, which is based on the 3GPP UMA/GAN standard capable of turning any Wi-Fi spot into its own little cell tower, giving the exact kind of coverage you would expect with other UMA capable phones. The means seamless handoffs between towers, reliable network coverage and the ability to actually hold a call in your basement!
We should clear up right away that this is not something you can or will expect to find in the Android Market, possibly never finding it there. It's being designed and built in to Android devices by the handset makers per the carrier's request. According to Kineto Wireless VP/GM Mark Powell, Kineto is working with a number of companies to preload the app into Android devices, though of course those companies remain nameless.
So how this appeals to T-Mobile users right off the bat should go pretty much without question, but there was a little easter egg that Androidguys managed to discover. You can see they had a little fun with it as seen by the picture gracing the top of this article. It's quite clear this app is currently being tested on a Samsung Vibrant, as even with the black tape covering the logo, the Avatar, MobiTV and The Sims 3 app icons are clearly Vibrant specialties. So lets just put it right out there, we have absolutely nothing that says this is coming to T-Mobile, in the near future or ever, but the possibility that a T-Mobile phone is being tested is definitely worth noting at Kineto likely could have used a phone from any carrier to showcase.
Now we've got a whole video for you to watch and learn all about Kineto Wireless' UMA feature and begin your rain dance prayers that T-Mobile will adopt this feature.
Image courtesy of Androidguys and thanks to Scott of Androidguys for shooting this over to me late last night!
Full Kineto Press Release follows:
Kineto Smart Wi-Fi Application Available for Android 2.2
Kineto delivers UMA technology for Froyo, the newest version of Android Operating System
Milpitas, Calif., September 20, 2010
Kineto Wireless, Inc., the key innovator and leading supplier of solutions that enable delivery of mobile services over broadband, today announced it has an updated version of its Smart Wi-Fi Application for Google's Android operating system version 2.2, also called Froyo.
Kineto's Smart Wi-Fi Application, based on the 3GPP UMA/GAN standard, turns existing Wi-Fi access points into seamless extensions of the mobile network. Using the Smart Wi-Fi application, subscribers can now resolve indoor mobile coverage problems by receiving their voice and data services over existing Wi-Fi access points.
"Smartphones have highlighted the coverage and capacity challenges of mobile networks, especially in indoor locations. Operators have started to look to Wi-Fi, already installed in many homes and offices, to address these issues," said Mark Powell, vice president and general manager of Kineto's Client Business Unit and co-founder of the company. "To capitalize on this growing demand, we have now enhanced our Smart Wi-Fi Application to support the latest version of Android and validated it with the leading Android smartphone manufacturers."
Kineto's Smart Wi-Fi Application is designed for mobile operators to address the network coverage and capacity issues created by the growing popularity of smartphones and subscriber demand for bandwidth intensive applications and services. The company works with device manufacturers and mobile operators to pre-load the application onto devices.
Wi-Fi continues to be the predominant wireless technology in the home. A study conducted by Arbitron earlier this year found that 62 percent of US broadband-connected households already had Wi-Fi installed. Market research firm In-Stat projects that by 2013, shipments of mobile phones with embedded Wi-Fi will exceed ¾ of a billion units. Kineto's Smart Wi-Fi Application enables mobile operators to extract the maximum benefit of Wi-Fi for their networks and their subscribers.
For more information about Kineto's Smart Wi-Fi Application, please visit our website www.kineto.com. For a short video of Smart Wi-Fi in action, visit Kineto's YouTube channel atwww.youtube.com/kinetowireless.http://www.youtube.com/kinetowireless
About Kineto Wireless
Kineto Wireless is the key innovator and leading supplier of standards-based solutions that enable mobile operators to embrace the cost and performance advantages of fixed and mobile broadband access networks. The company provides software and services to major wireless infrastructure and handset vendors so they can deliver Smart Offload solutions based on Wi-Fi and femtocell technologies, as well as Voice over LTE. Kineto customers and partners include, AudioCodes, Cisco, GENBAND, HTC, ip.access, Juniper Networks, LG Electronics, Motorola, NEC, Qualcomm, RIM, Samsung and Ubiquisys. For more information about Kineto, please visit http://www.kineto.com.