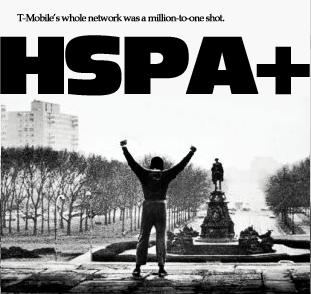 According to the guys over at LightReading, T-Mobile's first HSPA+ capable handset is due in September. LightReading claims that, according to an unnamed spokesman at Deutsche Telekom, T-Mobile USA's first HSPA+ handset, which will fully take advantage of its HSPA+ network, will be manufactured by HTC and will be running none other than Google's Android OS. Additionally, the DT spokesman also mentions that another HSPA+ capable handset will make its way to Magenta just in time for the holiday season. Further details were not provided.
When asked regarding T-Mobile USA's plans on further upgrading HSPA+ to the rumored 42 Mbps, the Deutsche Telekom spokesman replied:
T-Mobile USA has not decided yet if they will use the new 42 Mbps standard or maybe rollout LTE for the US. This decision will be made at a later point of time after having considered all necessary aspects and the experiences made with both HSPA+ and LTE in the other markets of Deutsche Telekom.
Keep in mind folks, while updating to HSPA+ 21 Mbps did not require additional hardware and mostly took software changes, updating the network to support HSPA+ 42 Mbps will require Magenta to update its cellsites with new multi-antenna base stations to reach the higher speeds.
PhoneDog Via LightReading