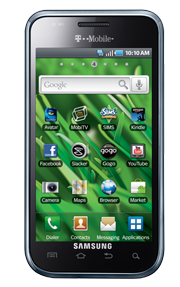 For the last few days the Samsung Vibrant has been the worst kept secrets in the T-Mobile world.  In light of all the hoopla these past few days, T-Mobile has posted a mini FAQ on their forums which sheds a little light on the phones and raises one major concern. The third bullet point highlights that the Vibrant is not going to be an HSPA+ device, ummm why not? Was this a Samsung decision or a T-Mobile one? Considering Samsung's Behold 2 history, we'll just a finger in their direction until we get more details. Seriously though, that's a likely deal killer for many as T-Mobile hypes up their HSPA+ network and a future premiere device won't be able to readily take advantage of it. Yes, we know that having the network itself helps the phone's data speeds, but not to be able to take advantage of the peak speeds offered across the network brings a real sad face. Either way, check the details below and see if anything else interests you!
Hardware
The Vibrant offers a 1GHz Samsung Hummingbird processor which is optimized for superior media viewing and game play.
The Vibrant has a 4.0-inch Super AMOLED touch screen display that gives you a bright, vivid viewing experience.
The Vibrant benefits from enhanced speeds with T-Mobile's HSPA+ network, but it's not an HSPA+ device.
The Vibrant is one of the slimmest smartphones on the market. The dimensions are 4.82" x 2.54" x 0.39"; weighs 4.16 oz.
The Vibrant's 5 MP camera is equipped with digital zoom and autofocus. Comes with an HD video recorder too!
Entertainment/Apps
The Vibrant is ideal for consumers who are entertainment enthusiasts and want to combine entertainment and communication in one device. The Vibrant offers a ton of entertainment options. We'll have more to share on this front when the countdown reaches zero.
Software/OS
The Samsung Vibrant is powered by Android 2.1 software.
The Vibrant supports personal and corp. e-mail, including MS Exchange, Gmail and most other POP3 and IMAP e-mail services.