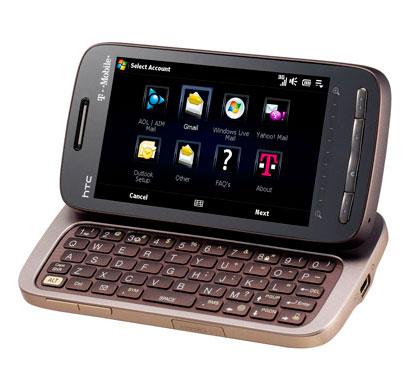 Those of you still looking to get a Touch Pro2 for a cheap price just before the holidays, it looks like you're in luck! Courtesy of WMdeals, you can get a brand spankin' new T-Mobile Touch Pro2 for $0.00 (Yup that means free) with a new service activation. Also trade-in your old smartphone and get up to $100 cash back! I don't know about you but I'd jump on this offer…like now! Beats paying the $349.99 2-year contract price T-Mobile is offering. Of course, as you probably already know, there are always requirements to rare deals like this. Hit the jump for full details!
Take advantage of this exclusive offer by calling 1-866-464-8662, press option 3 for new service, and mention promo code "Windows Mobile" when ordering. This offer is only valid via the 1-800# provided (offer not available at authorized T-Mobile retail stores).
Trade-in valid through 11/18/09 through 1/19/10
Purchase a brand new Touch Pro II device via the offer above and you qualify for HTC's trade in program. When you're ready to trade-in your eligible Smartphone, go online to www.htctradein.com/t-mobile and use the promo code TMOPRO2 for access. The offer is valid from 11/18/09 – 1/19/10. Fill in the required info about your used phone and print out a free shipping label. Package and send in all of the items below before: February 3, 2010
Qualifications:
To qualify for the promotion you must trade-in a working phone made by BlackBerry, Apple, and Palm and/or have a Windows Mobile or Android operating system. Visit www.htctradein.com/approved-phone-list.html to see if your phone qualifies.
A copy of the UPC code from the box of your new HTC Touch Pro ll.
A copy of the invoice/receipt from the purchase of your new HTC Touch Pro ll.
Once the eligible used Smartphone is received at the Trade-In Center we will mail you a check for $100*.
Note: Please pack up your old Smartphone carefully. When we receive it, it must be in the same condition that you specified on the website or you will not get the $100* trade-in credit. Please read the trade-in terms and conditions carefully. HTC will not return non- qualifying Smartphone's.