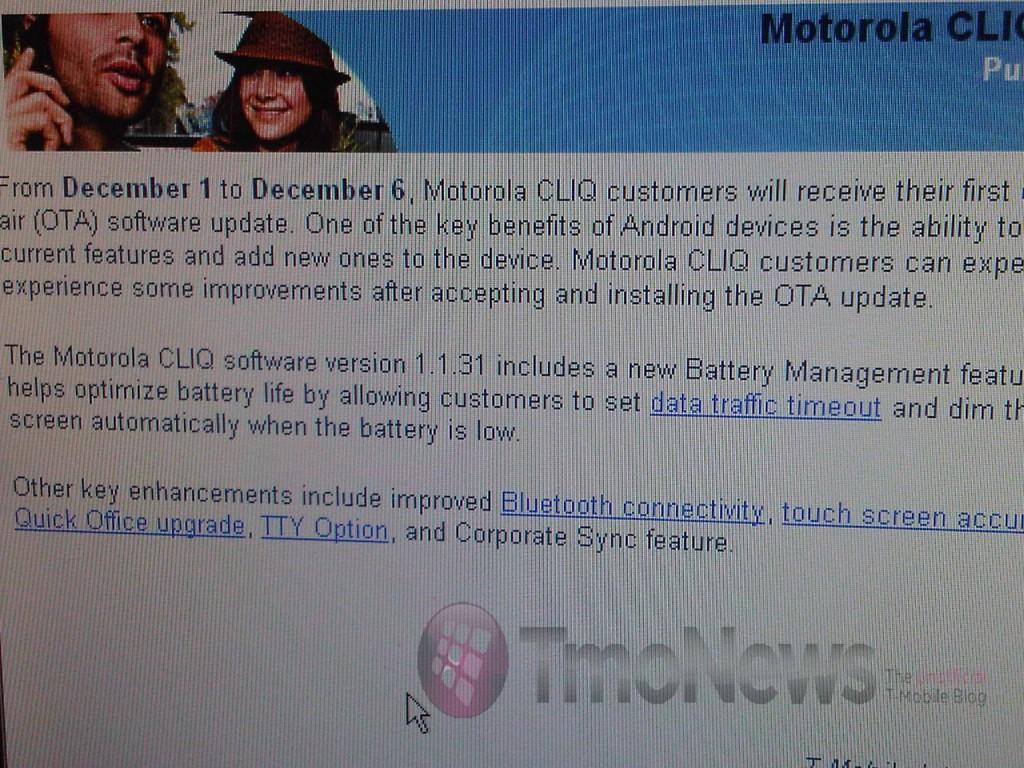 Reports are coming in regarding an anticipated Motorola Cliq OTA update that hopefully addresses a number of lingering issues. Set to improve battery life, touchscreen and Bluetooth response, the Cliq is in need of a fast fix. With yesterday's reports of less than impressive sales combined with a rumored shift from T-Mobile marketing buzz for the Cliq, Motorola needed to address these issues quickly. And while the Cliq may be overshadowed by the Droid in terms of marketing power right now, as the first phone to show off MotoBlur, we expect Motorola to address concerns in a more than timely manner. We can only hope Cliq users see benefits from today's update and we'll report back as we learn more.
More info via Motorola
Details:
Cliq 1.1.31 OTA Update released:
Patch notes (summarized):
– Increased battery life when phone is idle or running applications
– New battery management feature, customize battery settings, such as turning data off when phone idle for 30mins
– Improved bluetooth for pairing, audio/call connections
– Improved touchscreen accuracy and reduced inadvertent screen touch pick-ups
– TTY Options
– Better business/corporate connections
– Improved caller connectivity, repairs issues with lingering connections after hanging up a call
– Quick Office 2 added
– Accelerometer Enhancements with responsiveness and accuracy
It's recommended to download/install with a full battery/plugged in, and with a consistent 3G or Wifi connection active.
Download size: 8mbs