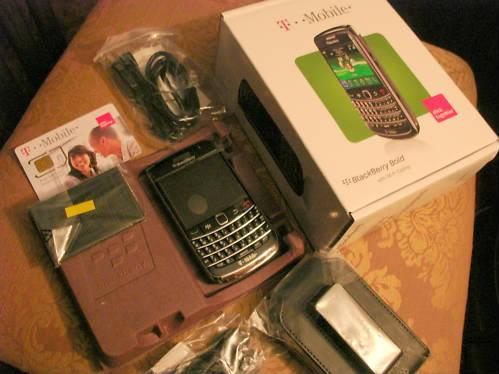 Okay after confiming from several of our sources, we have confirmed that the 16th of November will be the launch of the Bold 9700. Twelve days away, the BlackBerry Bold 9700 looks like it has already landed in some CrackBerry Forum user's hands. The user was kind enough to share a pic as well as the included accessories.
Packaging Includes:
*BlackBerry Bold 9700
*Carrying Case
*Battery & Battery Door
*Charger
*Stereo Headset
*USB Cable
*2GB microSD Card
*BlackBerry User Tools CD
*Start Guide
*Tips & Tricks
*Terms & Conditions
We are already aware of the $199.99 2-year commitment launch price, but we have been hearing T-Mobile will be bumping down the price to $149.99 with a 2-year commitment on Black Friday. Note this is not confirmed and is considered a rumor. Feel free to express your thoughts in the comments!