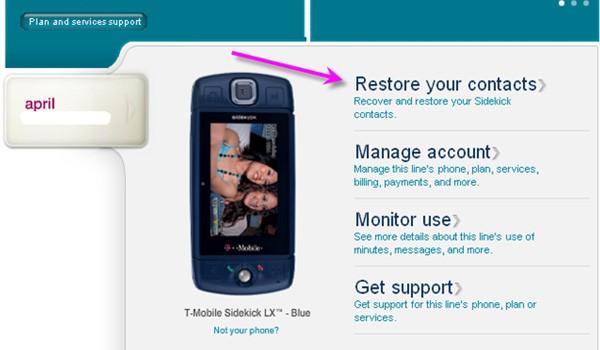 With Danger/Microsoft's recent update promising to restore contacts this week, it looks like they are following through on their word. Sidekick users can go to their My T-Mobile webpage to download their contacts and then restore them either to their Sidekick or whatever device they've replaced it with. You can have all your contacts in ten easy steps! It's easy as cake! Hit the break to see the steps! Don't forget to leave your thoughts/opinions in the comments!
Exporting Contacts
1. Log in to My T-Mobile
2. Navigate to Restore your contacts
Note: If you have changed devices, you will need to select a Sidekick device for the option to restore your contacts to appear.
3. On the Content Recovery Landing Page select download contacts.
4. Wait for the File Download box to appear.
Note: If there are a large number of contacts, this may take some time. Your username should reflect the name of the file being downloaded
5. Save the file to the desktop
6.Your contacts are now downloaded and ready to be imported to your Sidekick.
7. Navigate back to the Sidekick Desktop Interface and Click Import Contacts
8. An address screen will open
9. Click the Browse button and find the original file that was just downloaded.
10. Click Import
Your contacts should now populate on this screen which means they have been downloaded to your Sidekick. Note: This will only include phone numbers at this time.
If you would like a nice tutorial with pictures, click here