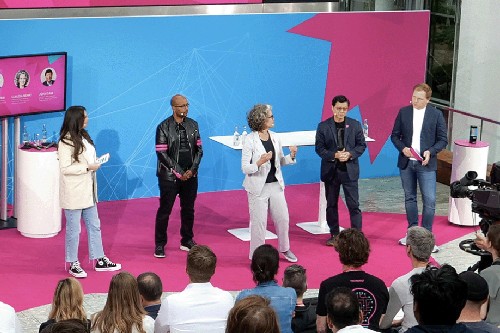 T-Mobile US and Deutsche Telekom have announced the winners of its T Challenge 2023. After six months of competition, the 20 finalists have finally completed the challenge. The finalists were previously announced here.
The finalists all presented their solutions to T-Mobile US and Deutsche Telekom executives in Bonn, Germany. Out of the finalists, six winners were picked for their innovative solutions.
The following are the winners of this year's T Challenge:
The winners are all splitting a prize money of more than half a million US dollars. More importantly, they will continue working with the two companies so that their solutions will be further developed and implemented.
T-Mobile US's EVP and Chief Technology Officer, John Saw, said:
"This year's winners are incredible examples of how 5G goes beyond smartphones. With 5G and Web3, users will have more control over their personal data on the internet than ever before — no matter what device they are using."
Deutsche Telekom's Board Member for Technology and Innovation, Claudia Nemat, said:
"The solutions subsumed under Web3 have a significant impact on the everyday lives of people around the world. Web3 technologies must keep the well-being of its users in mind, which is why we launched this year's T Challenge. With the hundreds of applications we received from over 50 countries, this competition and its winners show how important it is to promote a human-centric internet through Web3 development."
You can read more about the T Challenge winners here.
Source: T-Mobile