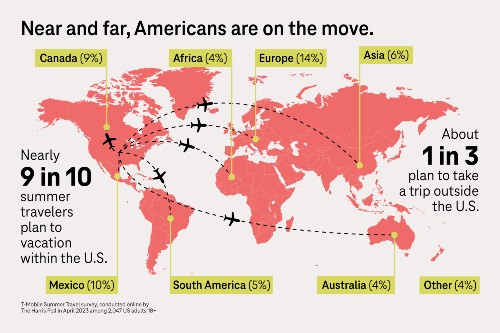 Earlier today, T-Mobile released data detailing how many Americans are currently revenge traveling. Despite its name, the idea behind revenge travel is that it allows individuals to travel and make up for lost time brought about by the pandemic.
Based on a Harris Poll survey from T-Mobile, 80% of Americans intend to travel as much or even more compared to last summer. The Un-carrier already expects this to be the busiest Memorial Day weekend in years. And with this, T-Mo is doing its best to help travelers stay connected while they are on the road.
Here's how T-Mo plans to help revenge travel:
A wireless connection is essential to a relaxing vacation, with 88% of travelers agreeing that without reliable wireless service at their destination, they would experience anxiety
83% of travelers say the most important technology to bring on a trip is a mobile phone
When it comes to what Americans need most on a trip, wireless service (34%) ranked alongside other travel essentials like good food/restaurants (36%), a comfortable bed (36%) and clean undergarments (32%)
'Bleisure' is on the rise with 79% of employed travelers checking their work email at least once on vacation
Two in three travelers actively share social content when traveling, with landscape/lifestyle and food/restaurant content being the most shared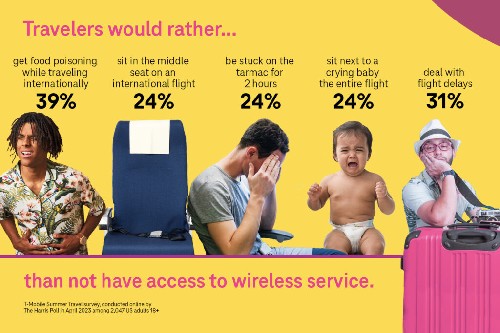 Interestingly, the study also revealed that travelers would rather experience travel pain points instead of not having wireless service access. This is what the study found:
39% would rather get food poisoning while traveling internationally
31% would rather deal with flight delays
24% would rather sit in the middle seat on an international flight, sit next to a crying baby the entire flight, or be stuck on the tarmac for two hours
This just shows how much travelers value staying connected over their own traveling comfort. And this is because 40% of travelers plan to work remotely while on a trip this summer and 79% of employed travelers check their work email at least once while on vacation. Not to mention, parents who travel want to stay connected from takeoff to touchdown. And 74% of parents choose an airline offering wireless connectivity and 61% of plane travelers say in-flight Wi-Fi is a must-have.
Plus there's the concern of staying connected to your digital wallet and travel documents on your device, which gives 73% of American travelers some anxiety if they lost access to these during their trip. It just goes to show how important staying connected is. 
This is where T-Mobile comes into the picture. With plans such as Go5G Plus, customers can enjoy built-in travel benefits and coverage wherever they go. There's also T-Mobile TRAVEL from Priceline, which gives customers exclusive deals along with free in-flight Wi-Fi and free high-speed data in over 215 countries.
You can read more from T-Mo's revenge travel statistics here.
Source: T-Mobile