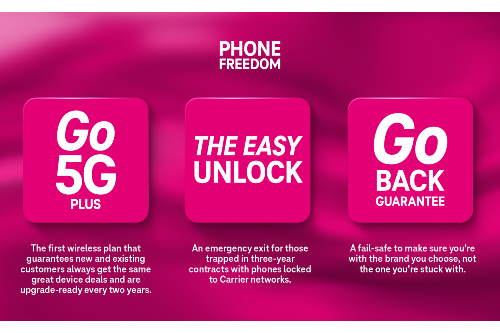 Yesterday, T-Mobile announced that they will be announcing their next Un-carrier move. Now that the event has wrapped up, we finally know what the big announcement is: T-Mobile's Phone Freedom.
So what is Phone Freedom? There are four things that T-Mo announced at the event. These include the following:
Go5G Plus
Previously, The Mobile Report first reported on some possible changes that will be taking place on the Un-carrier's plans. You can read more about that report here.
And now, we're finally learning about the Go5G Plus plan.
Thanks to the new Go5G Plus plan, new and existing customers have an option to upgrade their phones every two years instead of three.
Now that they are launching Go5G Plus, T-Mobile is offering customers to get a free 5G phone (worth up to $830) with an eligible trade-in. Customers also have the option to trade in an old phone (up to six years ago).
Go5G Plus also comes with more hotspot data, more North America data, and more savings. You can learn more about Go5G Plus here.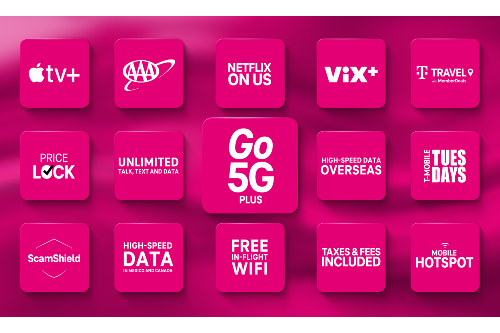 Easy Unlock
Another thing that T-Mobile announced at the Un-carrier event is the new Easy Unlock feature.
T-Mobile did not shy away from referencing AT&T in its announcement. The Un-carrier pointed out that aside from getting locked in three-year contracts, millions of AT&T customers are also stuck using a carrier who is still catching up with its 5G network.
T-Mobile says "AT&T keeps your phone locked to their network even after it's paid off to make it that much harder for you to leave. Shocker."
In line with this, T-Mobile is offering these customers a way out. T-Mobile will pay off locked phones (up to $650 via prepaid Mastercard) and now has a trade-in offer on eligible locked devices.
T-Mobile's President of Marketing, Innovation and Experience, Mike Katz, said:
"AT&T's unlock process rivals a trip to the DMV, so we're helping their customers avoid the aggravation, For the first time ever, we're not just taking locked phones off people's hands — we're also sending people home with a free smartphone on America's most awarded 5G network."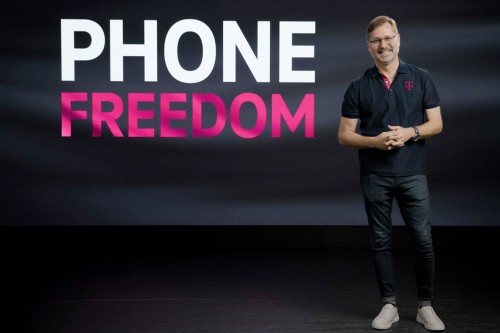 Go Back Guarantee
T-Mobile also has a fail-safe option so customers don't feel stuck. Customers who decide to switch to T-Mobile have one month to get a feel for the carrier before getting locked to the carrier. If you decide that T-Mobile is not the right carrier for you, you can switch back and get $50 per voice line to cover the cost of your bill.
This option, however, is only available within the first 30 days.
Essentials Savings Plan
And finally, T-Mo introduced a new plan called Essentials Savings.
The plan is available for a limited time period and has everything that the Essentials plan has. But compared to this plan, the Essentials Savings plan costs $10 less for the first line and $5 less for the third and additional lines.
If you would like a more in-depth look at all the things T-Mobile announced, you can visit this page.
Source: T-Mobile