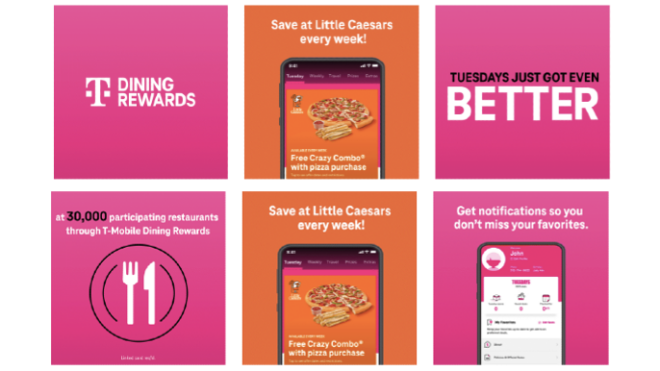 T-Mobile is giving more value to its T-Mobile Tuesdays app. Aside from bringing back its MLB.tv offer for a limited time period, the Un-carrier also has a number of new rewards in store for its customers.
Beginning tomorrow, March 21st, these are the new perks that you can enjoy:
T-Mobile Dining Rewards: Get 10% cash back every Tuesday and 5% every other day when you eat at over 30,000 participating restaurants across the country. Just link a credit or debit card to your account and watch your rewards add up in partnership with Rewards Network.
Little Caesars: Get a free Little Caesars® Crazy Combo® with a pizza purchase every week. Save and redeem any day of the week for eight bread sticks with flavors of butter and garlic, sprinkled with parmesan cheese and served with Crazy Sauce®.
Personalized App: T-Mobile is leveling up the T-Mobile Tuesdays app experience, giving people the option to select their preferred types of offers so they can receive alerts and catch the latest deals on all their faves. You can even select your own avatar and enter your birthday for the chance to get exclusive benefits on your special day. The new app updates are available now, so get in there and start making it yours.
Since the program launched in 2016, it has given over $1.5 billion worth of freebies, making it one of the reasons why customers choose T-Mobile. You can learn more about these offers here.
Source: T-Mobile