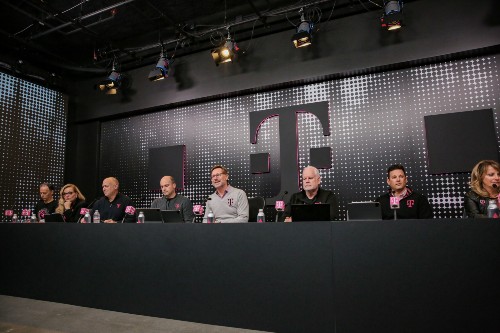 T-Mobile held an earnings call for Q3 2022 results and the numbers show good growth for the company.
In a nutshell, the Un-carrier obtained strong financial results and drove guidance raise for the third consecutive quarter in 2022. The figures from the call show the following:
Service revenues of $15.4 billion grew 4% year-over-year, including industry-leading Postpaid service revenue growth of 7%
Net income of $508 million and diluted earnings per share ("EPS") of $0.40 decreased year-over-year primarily due to merger-related costs and loss related to the anticipated sale of the wireline business amounting to a combined impact of $1.8 billion, net of tax, or $1.41 per share
Core Adjusted EBITDA(2) of $6.7 billion grew 11% year-over-year, best growth in industry and raising guidance
Net cash provided by operating activities of $4.4 billion grew 26% year-over-year, best growth in industry and raising guidance
Free Cash Flow(2) of $2.1 billion grew 32% year-over-year, best growth in industry and raising guidance
Repurchased 4.9 million shares of common stock in the quarter for a total purchase price of $669 million
The Un-carrier also earned industry-leading growth in postpaid and broadband customers:
Postpaid net account additions of 394 thousand, best in industry and highest in company history
Postpaid net customer additions of 1.6 million, more than AT&T and Verizon combined
Postpaid phone net customer additions of 854 thousand, best in industry and highest since merger
Postpaid phone churn of 0.88%, only operator to improve year-over-year
High Speed Internet net customer additions of 578 thousand, best in industry for fourth consecutive quarter
"We've always said our aspiration was to be the first and only provider to offer customers both the best network and the best value without having to sacrifice one for the other — and based on another set of standout customer and financial results for Q3, it's clear we're delivering on that promise," said Mike Sievert, CEO of T-Mobile. "On the heels of our highest ever postpaid account net additions and industry-leading postpaid and broadband customer growth, we are raising guidance for the third time this year. Our Un-carrier playbook continues to win in this ever-changing competitive and macro-economic climate and our momentum is only getting stronger."
You can read more about T-Mo's Q3 2022 results here. 
Source: T-Mobile