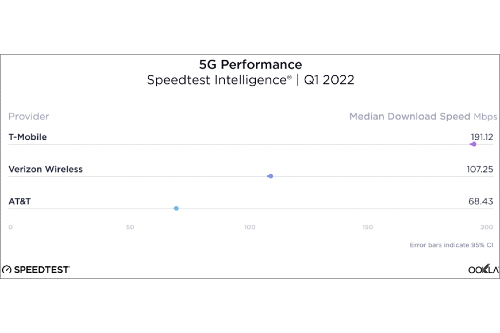 A report has just announced T-Mobile as the fastest overall wireless provider in the country with the most consistent speeds. Today's report further cements T-Mo's feat as the most awarded 5G network in the U.S.
In addition to being the fastest overall wireless provider, Ookla has named T-Mobile as the #1 for fastest median 5G download speeds and for having the most available 5G network in the country. 
T-Mobile's President of Technology has this to say about today's win: 
"Our 5G network is delivering a powerful performance boost and it's resonating, with over 40% of our customers now using a 5G device, accounting for more than HALF of our network traffic. And we're just getting started – this leading network experience will continue to improve as we accelerate our 5G build this year and beyond."
You can read the full report from Ookla here.
Source: T-Mobile