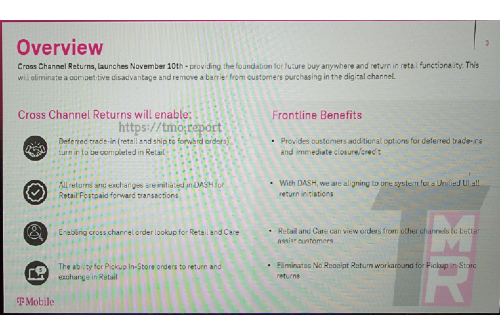 Things appear to be changing for T-Mobile thanks to a recently leaked document. According to the slides, T-Mo could soon offer "Cross Channel Returns."
As explained in The T-Mo Report, this will allow customers to make in-store trade-ins, returns, and store pickup for orders that were placed online and ordinary channels. According to the report, the leaked slides corroborate a recent post on the T-Mobile subreddit. The post suggested that "Cross Channel Returns" will be launched by T-Mo on November 10th.  
With this option, it will make things a lot easier for customers. If you are one, this will give you freedom to pick up return and trade-in orders at store locations that you place online. Or vice versa. 
By making this option available to customers, T-Mobile hopes that it "will eliminate a competitive disadvantage." This is in reference to its rivals, who already offer these features. 
If the subreddit post is to be believed, the program could start on November 10th. 
Source: The T-Mo Report