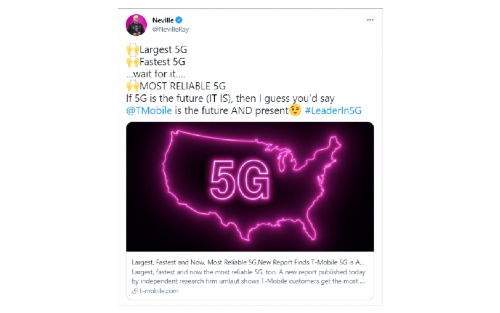 T-Mobile is on a roll. According to a report published today by umlaut, T-Mobile delivers the most reliable 5G network in the US.  
The independent research firm took a look at real customer usage from millions of devices across the top wireless providers in the country. With the data it obtained, they were able to see that T-Mobile provides the most 5G coverage, the highest 5G speed score, and the most reliable 5G network. This goes to show that T-Mobile really deserves its moniker as a 5G leader in the country.
The report was welcomed by T-Mobile's President of Technology, Neville Ray, who said that:
"Time and time again, the independent network benchmarking reports prove there's one clear leader in 5G, and that's T-Mobile. With the largest, fastest and now most reliable 5G network in the country, our sights are firmly set on what's next in 5G, while the competition plays catch-up!"
The data gathered by umlaut comes from real customer experience. The research firm was able to collect over 35 million data samples from more than 55,000 5G users. They also assessed 5G performance across the 50 states, where T-Mobile's network ranked first in 44 states across the country.
Source: 1