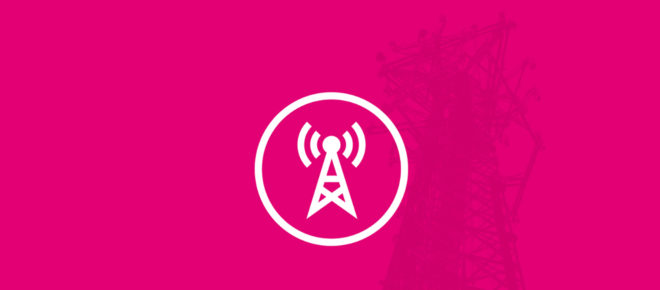 T-Mobile today revealed another round of mid-band LTE upgrades.
T-Mo says that it's performed mid-band LTE capacity upgrades on hundreds of cell sites in the last two weeks. These upgrades include both AWS and PCS spectrum.
These upgrades are spread throughout the U.S. and include cities like Fairfield, CT; Bismarck, ND; Oklahoma City, OK; Chicago, IL; and San Diego, CA. As usual, you can peruse the full list of upgraded cities below.
Mobile, AL
Mayflower, AZ
Hayward, CA
Oakley, CA
Pinole, CA
San Diego, CA
Walnut Creek, CA
Mesa, CO
Toponas, CO
Fairfield, CT
New Fairfield, CT
Ridgefield, CT
Riverton, CT
Rehoboth Beach, DE
Dade City, FL
Jacksonville, FL
Key Biscayne, FL
Miami, FL
Naples, FL
Corners, GA
Jonesboro, GA
Lake Park, GA
Lithonia, GA
Peachtree, GA
Swainsboro, GA
Woodbine, GA
Kihei, HI
Clemons, IA
Sioux City, IA
Chicago, IL
Palatine, IL
Newburgh, IN
La Crosse, KS
Lexington, KY
Lusby, MD
Odenton, MD
Deer Isle, ME
Dundee, MI
Patton, MO
Wasola, MO
Williamsville, MO
Chapel Hill, NC
Bismarck, ND
Manchester, NH
Absecon, NJ
Belleville, NJ
Brick, NJ
Carlstadt, NJ
East Brunswick, NJ
Edgewater, NJ
Edison, NJ
Hamburg, NJ
Howell, NJ
Little Falls, NJ
Mays Landing, NJ
Merchantville, NJ
Monroe Township, NJ
Newark, NJ
North Brunswick, NJ
Perth Amboy, NJ
Sea Isle City, NJ
Toms River, NJ
Villas, NJ
Bosque Farms, NM
Addison, NY
Astoria, NY
Brewster, NY
Brooklyn, NY
Coram, NY
Corona, NY
Glen Head, NY
New Rochelle, NY
New York, NY
Newburgh, NY
Port Chester, NY
Staten Island, NY
Sunnyside, NY
Waddington, NY
West Harrison, NY
Woodgate, NY
Westerville, OH
Oklahoma City, OK
Pendleton, OR
Effort, PA
Herminie, PA
Kersey, PA
Kittanning, PA
Long Pond, PA
Lancaster, SC
Alcester, SD
Box Elder, SD
Rapid City, SD
Vermillion, SD
Bastrop, TX
Blanco, TX
Brownsville, TX
Burleston, TX
Dallas, TX
El Paso, TX
Flower Mound, TX
Fort Worth, TX
McAllen, TX
McKinney, TX
Mesquite, TX
Orange Grove, TX
Princeton, TX
Sweeny, TX
Waco, TX
Salt Lake City, UT
Chantilly, VA
Glasgow, VA
Moseley, VA
Newport News, VA
Burlington, WA
Bonduel, WI
Linn, WV
Moorcroft, WY
Source: Neville Ray (Twitter)