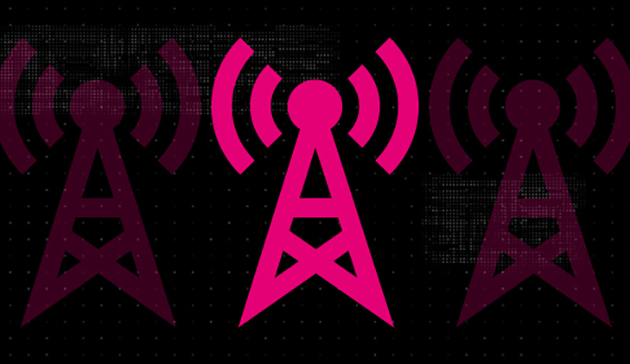 Two weeks after announcing its last round of low-band LTE uprgades, T-Mobile has confirmed that it's made another batch of upgrades.
T-Mobile CTO Neville Ray says that T-Mo has deployed low-band LTE upgrades to hundreds of cities across the U.S. These upgrades have been performed over the last two weeks, and they include 600MHz and 700MHz spectrum.
Some of the cities and towns included in this latest round of low-band LTE upgrades are Omaha, NE; Schwenksville, PA; Beaverton, OR; Boston, MA; Dallas, TX; and San Diego, CA. As usual, the full list of upgraded cities is available below.
Buckeye, AZ
Gold Canyon, AZ
Morristown, AZ
Oatman, AZ
Phoenix, AZ
Scottsdale, AZ
Tucson, AZ
Arkadelphia, AR
Little Rock, AR
Searcy, AR
Springdale, AR
Vilonia, AR
Alhambra, CA
Anaheim, CA
Bakersfield, CA
Baldwin Park, CA
Buena Park, CA
Chula Vista, CA
Corona, CA
Coronado, CA
Downey, CA
Fullerton, CA
Garden Grove, CA
Gustine, CA
Hacienda Heights, CA
Long Beach, CA
Loomis, CA
Los Angeles, CA
Madera, CA
Marysville, CA
Moreno Valley, CA
National City, CA
Nipomo, CA
Rancho Cucamonga, CA
Rialto, CA
Riverside, CA
Sacramento, CA
San Bernardino, CA
San Diego, CA
San Gabriel, CA
San Luis Obispo, CA
Santa Barbara, CA
Santee, CA
South El Monte, CA
Victorville, CA
West Covina, CA
West Hollywood, CA
Westminster, CA
Whittier, CA
Willits, CA
Yorba Linda, CA
Jacksonville, FL
North Fort Myers, FL
Panama City, FL
Tallahassee, FL
Atlanta, GA
Lavonia, GA
Toccoa, GA
Ewa Beach, HI
Honolulu, HI
Pearl City, HI
Ashton, ID
Banks, ID
Garden Valley, ID
Chicago, IL
Elk Grove Village, IL
Glendale Heights, IL
Joliet, IL
Libertyville, IL
Maywood, IL
Naperville, IL
Northbrook, IL
Park Ridge, IL
Quincy, IL
River Grove, IL
Willowbrook, IL
Bloomington, IN
Wichita, KS
Isom, KY
Baton Rouge, LA
Covington, LA
Falmouth, ME
Aberdeen, MD
Grantsville, MD
Havre de Grace, MD
Lexington Park, MD
Boston, MA
Albion, MI
Bay City, MI
Saint Joseph, MN
Poplar Bluff, MO
Bellevue, NE
Omaha, NE
Henderson, NV
Las Vegas, NV
North Las Vegas, NV
Reno, NV
Sanbornton, NH
Bayonne, NJ
Beverly, NJ
Butler, NJ
Carlstadt, NJ
Clifton, NJ
Edison, NJ
Elizabeth, NJ
Fairview, NJ
Hackensack, NJ
Jersey City, NJ
Kenilworth, NJ
Manville, NJ
New Providence, NJ
Newark, NJ
Old Bridge, NJ
Paramus, NJ
Passaic, NJ
Paterson, NJ
Roselle, NJ
Saddle River, NJ
Seaside Heights, NJ
Spring Lake, NJ
Totowa, NJ
Union City, NJ
Westwood, NJ
Alamogordo, NM
Albuquerque, NM
Bernalillo, NM
Las Cruces, NM
Bethpage, NY
Brooklyn, NY
Buffalo, NY
Coxsackie, NY
Hempstead, NY
Jamaica, NY
New York, NY
Roslyn, NY
Roslyn Heights, NY
Valley Cottage, NY
Gastonia, NC
Kernersville, NC
McAdenville, NC
Raeford, NC
State Road, NC
Waxhaw, NC
Winston Salem, NC
Cincinnati, OH
Beaverton, OR
Corvallis, OR
Bristol PA
Enola, PA
Gibsonia, PA
Gordonville, PA
Halifax, PA
Harrisburg, PA
Hatboro, PA
Lancaster, PA
Lewisburg, PA
Morrisville, PA
New Cumberland, PA
Olyphant, PA
Pine Grove, PA
Richboro, PA
Schwenksville, PA
Sellersville, PA
State College, PA
York, PA
Aguadilla, PR
Barceloneta, PR
Carolina, PR
Fajardo, PR
Guaynabo, PR
Ponce, PR
San Juan, PR
Toa Baja, PR
Vega Baja, PR
Vieques, PR
Villalba, PR
Yauco, PR
Bennettsville, SC
Greenville, SC
Hermosa, SD
Sturgis, SD
Franklin, TN
Nashville, TN
Canadian, TX
Colmesneil, TX
Dallas, TX
El Paso, TX
Hale Center, TX
Henderson, TX
Ingleside, TX
Mission, TX
Mount Pleasant, TX
New Boston, TX
Powderly, TX
Rising Star, TX
Rockwall, TX
San Antonio, TX
Texarkana, TX
Yorktown, TX
American Fork, UT
Bountiful, UT
Brian Head, UT
Clearfield, UT
Heber City, UT
Layton, UT
Ogden, UT
Salt Lake City, UT
Spanish Fork, UT
Arlington, VA
Culpeper, VA
Danville, VA
Lynchburg, VA
Portsmouth, VA
Red Oak, VA
Winchester, VA
Gold Bar, WA
Kennewick, WA
Tacoma, WA
Superior, WI
Basin, WY
Cheyenne, WY
Source: Neville Ray (Twitter)