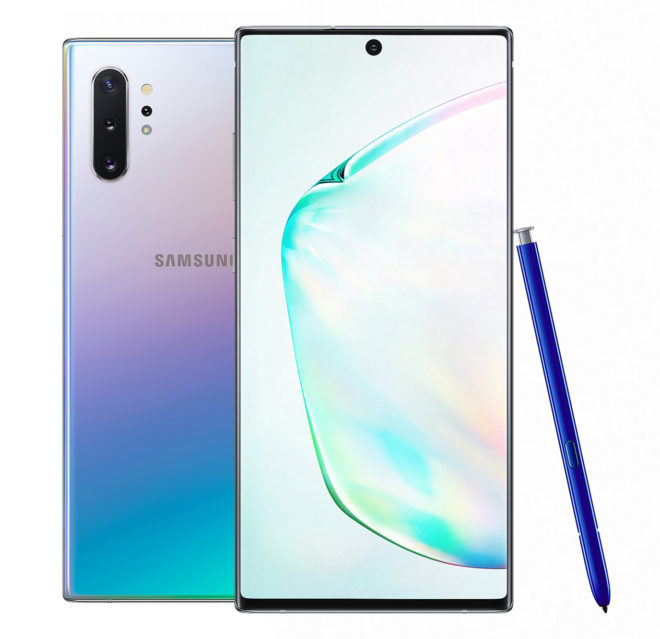 Samsung's next big things are here.
The Samsung Galaxy Note 10 and Note 10+ are now available from T-Mobile. Both phones are available with 256GB of storage and Aura Glow, Aura White, and Aura Black color options, while the Note 10+ also has a 512GB model in Aura Black.
Here's how T-Mobile is pricing the Note 10 and Note 10+:
Galaxy Note 10
256GB: $0 down and $39.59 per month for 24 months on EIP, $121.99 down and $35 per month for an 18-month JUMP! On Demand lease, or $949.99 full retail
Galaxy Note 10+
256GB: $149.99 down and $39.59 per month for 24 months on EIP, $199.99 down and $38 each month on an 18-month JOD lease, or $1,099.99 full retail
512GB: $249.99 down and $39.59 per month for 24 months on EIP, $245.99 down and $40 per month for 18 months on a JOD lease, or $1,199.99 full retail
T-Mobile is launching a Buy One, Get One deal on the Galaxy Note 10 today that'll get you a free Note 10 or $950 off a Note 10+ when you buy a Note 10 or Note 10+. The discount is applied via 24 monthly bill credits.
To get this deal, you'll need to activate one (existing customers) or two (new customers) new lines on Magenta Plus or T-Mobile One Plus for families. Both phones must also be purchased on EIP, and you'll need to pay the required down payment and any applicable taxes at the time of purchase. You'll then need to keep your account active and in good standing to continue receiving the bill credits.
Samsung's Galaxy Note 10 is one of the most hotly anticipated smartphone releases of the year, so it's exciting to see it hitting store shelves today. While the new models have made some changes that might frustrate some folks, like the removal of the 3.5mm headphone jack and the missing microSD slot on the standard Note 10, Samsung also made upgrades like adding a third rear camera and shrinking the bezels on the display. Also of note this year is that there are two Note models for the first time, one with a 6.3-inch display and one with a 6.8-inch screen, which is the biggest Note phone yet.
Are you getting a Note 10 today or are you one of the lucky folks who pre-ordered and got the new Note earlier this week? If so, let us know what you think of Samsung's new flagship!