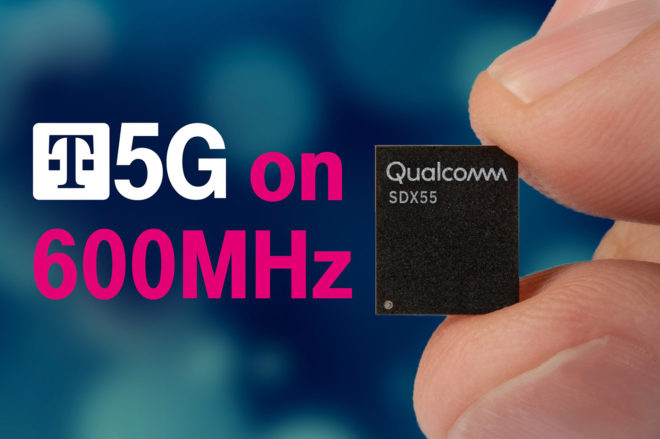 T-Mobile, Qualcomm, and Ericsson have teamed up to reach another 5G milestone.
The three companies announced today that they've achieved the world's first low-band 5G data session on a commerical 5G modem. The data session was completed on 600MHz spectrum at T-Mobile's lab in Bellevue, WA using a mobile test device with a Qualcomm Snapdragon X55 5G modem. The test also included an RF transceiver, FR Front-End solution, and commercial 5G radios from Ericsson.
"This is a key step toward achieving our vision of 5G for All," said T-Mobile CTO Neville Ray. "This modem will power devices that tap into the 600 MHz low-band spectrum we'll use to blanket the country with 5G."
This milestone is notable because T-Mobile plans to use 600MHz spectrum to expand the coverage of its 5G network. T-Mobile's 5G network currently only uses millimeter wave (mmWave) spectrum, which has a much shorter reach than 600MHz.
The Snapdragon X55 5G modem will enable devices to connect to T-Mobile's 600MHz 5G coverage. However, the X55 isn't inside any 5G phones currently on the market. T-Mobile's Galaxy S10 5G includes a Snapdragon X50 5G modem, which only works with T-Mo's mmWave 5G coverage.
There haven't been any official announcements on when we'll see the first phone with a Snapdragon X55 modem hit the market, but we've heard rumblings that devices will begin to arrive in the second half of 2019. We've also heard that T-Mobile will likely launch its 600MHz 5G coverage in the second half of the year.
Source: T-Mobile