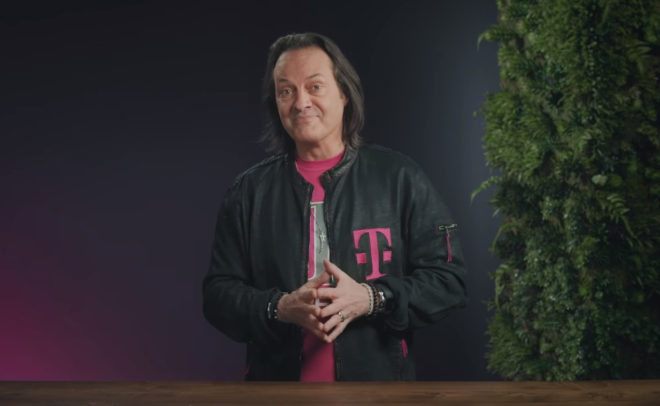 T-Mobile CEO John Legere today continued pushing for the proposed merger of T-Mobile and Sprint, this time sharing a blog post focused on jobs.
The New T-Mobile will spend nearly $40 billion to expand its network and business over three years, Legere says. The CEO also claims that the combined company will have more than 11,000 additional employees on its payroll by 2024 compared to what T-Mo and Sprint would have by themselves.
Focusing specifically on customer care jobs, Legere reiterates that the New T-Mobile will open five new Customer Experience Centers, with locations in Overland Park, KS; the Greater Rochester area of New York; and in the Kingsburg area of Fresno County, CA. Each new center is expected to create around 1,000 jobs. T-Mobile also plans to transition Sprint's "largely overseas customer care model" to a more domestic-led model.
With these efforts, New T-Mobile plans to create 5,600 customer care jobs by 2021. Legere adds that he expects New T-Mobile to employ more than 7,500 additional customer care workers by 2024 than the standalone T-Mobile and Sprint would have.
Finally, Legere reiterates that New T-Mobile plans to open 600 new stores to serve rural and small towns.
Jobs have been a major focus of the T-Mobile-Sprint merger, both for those supporting the deal and those opposed to it. The Communications Workers of America (CWA) has been one of the more vocal opponents of this deal, with CWA president Chris Shelton appearing in government hearings and claiming that the merger is likely to eliminate 30,000 jobs. Shelton has also called out T-Mobile for its iWireless acquisition, saying that T-Mo closed all iWireless call centers and the majority of its retail locations. "Trusting Sprint and T-Mobile with American jobs is like trusting a vampire at a blood bank," Shelton recently said.
Legere briefly mentioned the CWA in his blog post today, claiming that the CWA used "projected layoff numbers from an analyst's projections that were based on a completely different deal at a completely different point in time" during a congressional hearing.
The T-Mobile-Sprint merger is being reviewed by the FCC and DOJ. The FCC today resumed the 180-day shot clock on its review of the deal after pausing it last month in order to review a "significant" amount of new information related to the merger that had been submitted by T-Mobile and Sprint. The FCC is now on day 122 of its 180-day timeline.
T-Mobile and Sprint have said that they expect the merger to receive approval in the first half of 2019.
Source: T-Mobile