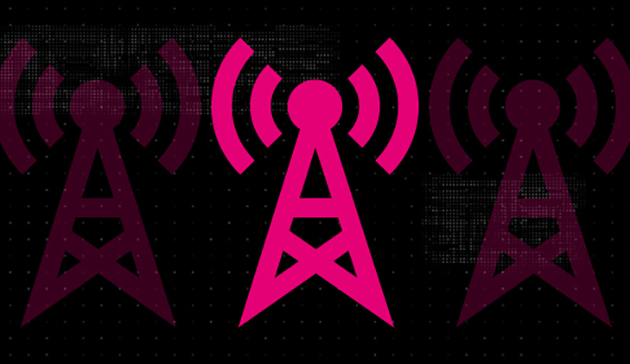 T-Mobile today officially made its first LTE upgrade announcement of 2019.
T-Mobile CTO Neville Ray said today that T-Mo has upgraded hundreds of cell sites with additional mid-band LTE capacity over the past two weeks. These upgrades include PCS and AWS spectrum.
America's fastest LTE network is always getting faster! 100s of sites were upgraded with more midband capacity in the last two weeks and we're only getting started. #WeWontStop @TMobile @MetroByTMobile pic.twitter.com/wbsbE8fV3S

— Neville (@NevilleRay) January 9, 2019
There are lots of cities included in this latest round of upgrades, including Phoenix, AZ; Seattle, WA; Lincoln, NE; Tampa, FL; and Worcester, MA. I've got the full list of cities and towns that received a mid-band LTE upgrade below.
Glendale, AZ
Kearny, AZ
Laveen, AZ
Phoenix, AZ
San Tan Valley, AZ
Superior, AZ
Tolleson, AZ
Tucson, AZ
Hot Springs, AR
National Park, AR
Brawley, CA
Irvine, CA
Los Angeles, CA
Mendota, CA
National City, CA
Pacific Palisades, CA
Oceanside, CA
Orange, CA
Palo Alto, CA
Rancho Palos Verdes, CA
San Bruno, CA
San Diego, CA
Santa Monica, CA
Sherman Oaks, CA
Soda Springs, CA
West Hollywood, CA
Denver, CO
Saguache, CO
Wemore, CO
Bridgeport, CT
Washington, DC
Fort Pierce, FL
Homestead, FL
Southwest Brevard County, FL
Tampa, FL
Tarpon Springs, FL
Venice, FL
Wesley Chapel, FL
Atlanta, GA
Flowery Branch, GA
Waipahu, HI
Caldwell, ID
Blue Island, IL
Wheeling, IL
Highland, IN
Hammond, IN
Indianapolis, IN
Adair, IA
Akron, IA
Birmingham, IA
Davis City, IA
Moulton, IA
New Virginia, IA
Sibley, IA
Stuart, IA
Truro, IA
Underwood, IA
Van Wert, IA
Saint Marys, KS
Burnside, KY
Jenkins, KY
Neon, KY
Baton Rouge, LA
New Orleans, LA
Baltimore, MD
Bethesda, MD
Bowie, MD
Capitol Heights, MD
Centreville, MD
Cumberland, MD
Joppa, MD
Rockville, MD
Silver Spring, MD
Ashland, MA
Ayer, MA
Beverly, MA
Boston, MA
Canton, MA
Hudson, MA
Marlborough, MA
Matheun, MA
Newton Highlands, MA
Sudbury, MA
Westborough, MA
Worcester, MA
Boon, MI
Detroit, MI
Kalamazoo, MI
Marion, MI
Newberry, MI
Philipsburg, MT
Lincoln, NE
Las Vegas, NV
Reno, NV
Sparks, NV
Avenel, NJ
Basking Ridge, NJ
Brick, NJ
Cliffside Park, NJ
Dover, NJ
Fairview, NJ
Fort Lee, NJ
Haledon, NJ
Irvington, NJ
Iselin, NJ
Jersey City, NJ
Maple Shade, NJ
Maywood, NJ
Montclair, NJ
Morristown, NJ
Mountainside, NJ
Newark, NJ
Parsippany, NJ
Paterson, NJ
Pennsauken, NJ
Short Hills, NJ
South Orange, NJ
South Plainfield, NJ
Summit, NJ
Union City, NJ
Wood Ridge, NJ
Coram, NY
Latham, NY
Middle Island, NY
New York, NY
Orangeburg, NY
Pearl River, NY
Roslyn Heights, NY
Rye, NY
Staten Island, NY
Syracuse, NY
Tarrytown, NY
Benson, NC
Chapel Hill, NC
Charlotte, NC
Franklin, NC
Garner, NC
Kannapolis, NC
Kernersville, NC
Raleigh, NC
Roxboro, NC
Bottineau, ND
Cleveland, OH
Wellston, OH
Enid, OK
Hardesty, OK
Monaca, PA
Stroudsburg, PA
Canovanas, PR
Las Piedras, PR
San Juan, PR
Vega Alta, PR
Riverside, RI
Chesnee, SC
Columbia, SC
Lake City, SC
Rock Hill, SC
Chattanooga, TN
Austin, TX
Big Lake, TX
Brownsville, TX
Cedar Hill, TX
Christoval, TX
Cleburne, TX
Dallas, TX
El Paso, TX
Eldorado, TX
Fort Worth, TX
Houston, TX
Hurst, TX
Killeen, TX
Lewisville, TX
San Angelo, TX
San Antonio, TX
Schertz, TX
Falls Church, VA
Quantico, VA
Aberdeen, WA
Bellevue, WA
Chewelan, WA
Seattle, WA
Yakima, WA
Culloden, WV
Fraziers Bottom, WV
Leon, WV
Lesage, WV
Culloden, WV
Kenosha, WI
Milwaukee, WI
Source: Neville Ray (Twitter)