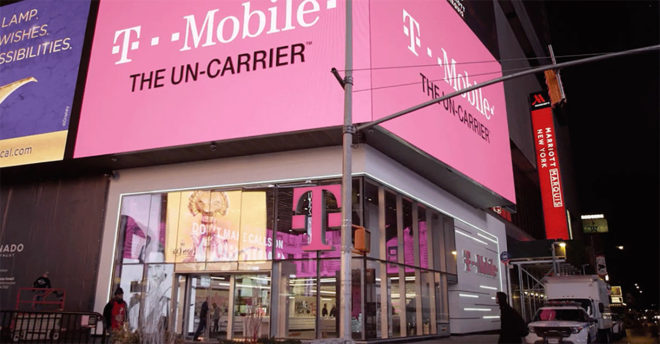 T-Mobile today kicked off another "Device On Us" promotion for customers looking to treat themselves to a new smartphone this holiday season.
For a limited time, T-Mobile is offering a free Android or iOS smartphone to customers who add at least one new line of service and trade in a qualifying smartphone. This promotion is open to both new and existing customers, with new customers being required to add two new lines of voice service and existing customers being required to add at least one voice line.
The smartphones that you can get for free with this promo include an iPhone XR or iPhone 8, Samsung Galaxy S9 or S8, LG V40 or G7 , or OnePlus 6T. T-Mobile is also offering up to $750 off an iPhone XS, XS Max, iPhone X, iPhone 8 Plus, Galaxy S9+, Galaxy Note 9, or Galaxy S8 Active if you'd prefer one of those devices. Whichever phone you choose, you'll need to purchase it on an Equipment Installment Plan to qualify for this promotion.
You'll also need to trade in a phone that's been paid off to qualify for this deal. Here are the phones that qualify for trade-in:
Eligible for iPhone purchases
iPhone X, iPhone 8, iPhone 8 Plus, iPhone 7, iPhone 7 Plus, iPhone 6s, iPhone 6s Plus
Eligible for Android purchases
Samsung Galaxy S8 series, Galaxy S7 series, Galaxy S6 series, Galaxy Note 8, Galaxy Note 5
Google Pixel, Pixel XL, Pixel 2, Pixel 2 XL
LG V30, V30+, V20, G7, G6
Motorola Moto Z2 Force, Z2 Play
OnePlus 6, 5T, 5
Once you've traded your device in, you'll receive a one-time credit based on the value of your phone. You'll then get the remainder of the offer spread out over 24 or 36 monthly bill credits.
T-Mobile hasn't said when this deal will end, but if you're interested in taking advantage of it, you may want to act soon.
Source: T-Mobile