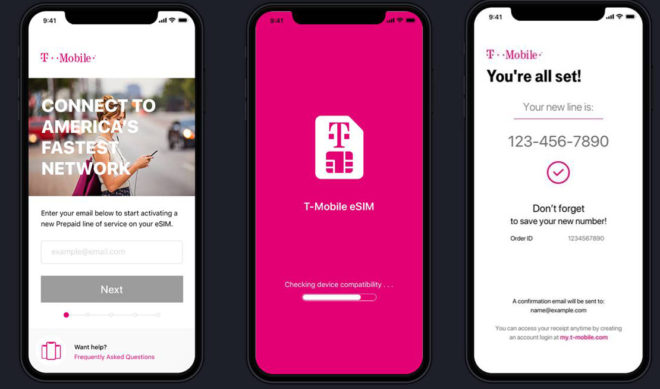 One of the major new features of the iPhone XS, iPhone XS Max, and iPhone XR is dual SIM with eSIM, which lets you activate a second line onto your phone without needing a physical SIM card. The major U.S. carriers didn't support the feature at first, but they're slowly adopting it, and today we're getting our first look at T-Mobile's implementation.
Images that show T-Mobile's eSIM app have made their way online today. Shared by PCMag, we can see that the app will allow you to activate a new prepaid line of service on your iPhone's eSIM using the app, which means you shouldn't have go into a store or anything like that.
T-Mobile is reportedly sending this app to its employees for training tomorrow, December 7, and it's said that T-Mo is planning to launch it by the end of 2018. It'll only support adding prepaid lines to the iPhone's eSIM, at least to start.
AT&T began supporting the new iPhones' eSIM feature this week and it's expected that Verizon will as well, so it's good to hear that T-Mobile is planning to roll out support soon. As I mentioned before, dual SIM support with eSIM is a major new feature of the iPhone XS, XS Max, and XR, allowing you to add a second line to your iPhone for business, testing, or whatever other reason. And today's images show that T-Mo will make it super easy for customers to add a secondary T-Mobile line to their iPhone.
Source: PCMag