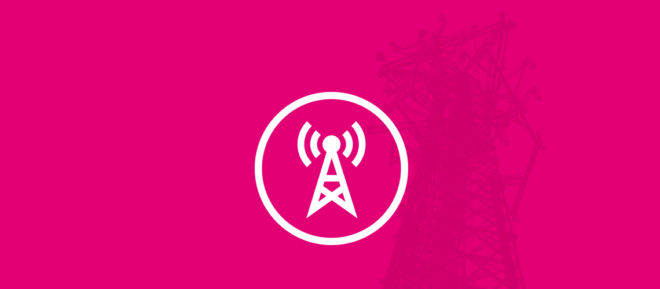 Right on schedule, T-Mobile has announced another round of mid-band LTE upgrades two weeks after its previous mid-band expansion.
T-Mobile CTO Neville Ray says that T-Mo upgraded hundreds of cell sites with additional mid-band LTE capacity over the past two weeks. These upgrades include both PCS and AWS spectrum.
100s of sites were upgraded with more midband capacity in just the last two weeks and #WeWontStop! This is why we've had the fastest LTE network for 4 years!! @TMobile @MetroPCS #Amped pic.twitter.com/uSeirdn8IQ

— Neville (@NevilleRay) November 14, 2018
This latest batch of mid-band LTE capacity upgrades were spread across the country. Some of the cities and towns included in these upgrades are Bakersfield, CA; Omaha, NE; Manchester, MA; Dallas, TX; and Panama City Beach, FL. As usual, we've got the full list of markets included in this latest round of upgrades below.
Smiths Station, AL
Fayettesville, AR
Bakersfield, CA
Coronado, CA
Cupertino, CA
Daly City, CA
Elk Grove, CA
Los Angeles, CA
Orange Cove, CA
Palmdale, CA
Roseville, CA
San Francisco, CA
Stockton, CA
Aurora, CO
Denver, CO
Bridgeport, CT
Washington, DC
Blountstown, FL
Melbourne, FL
Panama City Beach, FL
Port Orange, FL
Port Saint Joe, FL
Venice, FL
Atlanta, GA
Monroe, GA
Suwanee, GA
Wilder, ID
Chicago, IL
Lebanon, IL
Indianapolis, IN
Ames, IA
Ankeny, IA
Urbandale, IA
Essex, MD
Ashland, MA
Bedford, MA
Bellingham, MA
Canton, MA
Fall River, MA
Franklin, MA
Gloucester, MA
Hopkinton, MA
Littleton, MA
Lynnfield, MA
Manchester, MA
Middleton, MA
Norfolk, MA
North Reading, MA
Plainville, MA
Scituate, MA
South Hamilton, MA
Westford, MA
Wrentham, MA
Detroit, MI
Wyoming, MI
Independence, MO
Lees Summit, MO
Omaha, NE
Bloomfield, NJ
Bridgewater, NJ
Clifton, NJ
East Orange, NJ
Edison, NJ
Flemington, NJ
Garfield, NJ
North Arlington, NJ
Somerville, NJ
South Orange, NJ
Union City, NJ
West Orange, NJ
Bayside, NY
Bronx, NY
Brooklyn, NY
Centereach, NY
Elmhurst, NY
Flushing, NY
Hempstead, NY
Howard Beach, NY
Huntington, NY
New York, NY
Oakland Gardens, NY
Ozone Park, NY
Patterson, NY
Westbury, NY
Yonkers, NY
Charlotte, NC
Fort Bragg, NC
Raleigh, NC
Cleveland, OH
Uniontown, OH
Cement, OK
Albany, OR
Pleasant Mount, PA
Scranton, PA
Arecibo, PR
Corozal, PR
Dorado, PR
Juncos, PR
Rio Grande, PR
Hope, RI
Bennettsville, SC
Greenville, SC
Rapid City, SD
Carthage, TN
Converse, TX
Dallas, TX
Merkel, TX
Round Rock, TX
San Antonio, TX
Sandy, UT
Alexandria, VA
Leavenworth, WA
Rockport, WV
Rawlins, WY
Gillette, WY
Source: Neville Ray (Twitter)