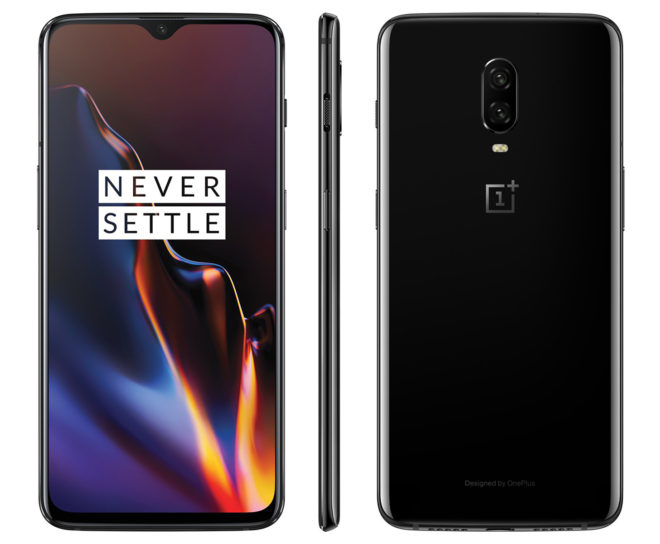 The OnePlus 6T has officially arrived at T-Mobile.
Days after its official debut and launch at T-Mobile's Times Square store, the OnePlus 6T is now available from T-Mobile and OnePlus. T-Mobile's pricing is set at $0 down and $24.17 per month for 24 months for the 8GB/128GB model in Mirror Black, which is the only version that T-Mo will be selling. If you'd like to buy using JOD, you'll pay $28 down and $24 per month for 18 months with a $120 residual. Full retail price is $580.
If you'd prefer to buy from OnePlus, you can get the 6GB/128GB model for $549, the 8GB/128GB model for $579, and the 8GB/256GB model for $629. OnePlus is offering Mirror Black and Midnight Black color options.
T-Mobile is offering a trade-in deal with the OnePlus 6T that'll get you $300 off the device via 24 monthly bill credits. Just buy the OnePlus 6T on EIP and trade in a qualifying smartphone and your price will be knocked down to $11.67 per month for 24 months. The phones that are eligible for trade-in are:
Apple: iPhone 8, iPhone 8 Plus, iPhone 7, iPhone 7 Plus, iPhone 6s, iPhone 6s Plus, iPhone 6, iPhone 6 Plus
Samsung: GS8 series, Note 8, GS7 series, Note 5, GS6 series
Google: Pixel 2, Pixel 2 XL, Pixel, Pixel XL
LG: V30, V30+, G7, V20, G6
Motorola: Z2 Force; Z2 Play; Nexus 6
OnePlus: 5, 5T, 6, 3, 3T, X, 2, 1
It's worth noting that there are a few differences between the OnePlus 6T being sold by T-Mobile and the models being sold by OnePlus. For example, the T-Mo model only has one SIM slot, while the unlocked model has two. The T-Mobile version also comes with two T-Mo apps preloaded: T-Mobile for your account access and the Device Unlock app.
Two other differences involve unlocking the OnePlus 6T. The T-Mobile version is locked to the T-Mo network until it's paid in full and used for 40 continuous days. Once you meet those requirements, you can request to have your OP6T unlocked. The T-Mobile OnePlus 6T's bootloader is locked as well, but can be unlocked after the OnePlus 6T is no longer network locked.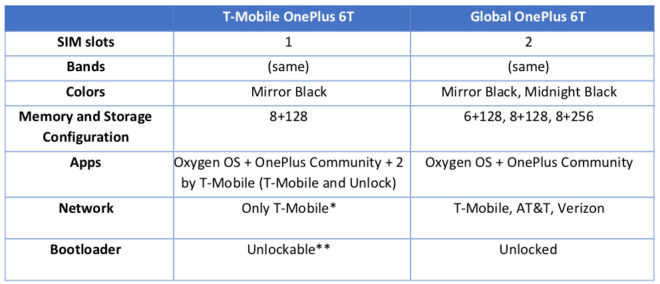 Finally, OnePlus does note that while it's working with T-Mo to bring updates to both versions of the OnePlus 6T in a timely manner, there may be a slight difference in the timing of update releases "due to the additional level of certification required by T-Mobile on all software releases."
Some of those differences will be a bigger deal to some consumers than others. Something like the bootloader lock will be more important to folks in the modding and tweaking community, while the single SIM slot and the fact that the OnePlus 6T is locked to T-Mobile until it's paid in full may be important to folks who travel a lot. Still, it's nice to see the OnePlus 6T on T-Mobile, giving more folks the chance to try a OnePlus phone because it's available through EIP and JOD.
Now that it's arrived, are you going to buy the OnePlus 6T? If so, are you buying from T-Mobile or OnePlus?
Sources: T-Mobile, OnePlus (1), (2)