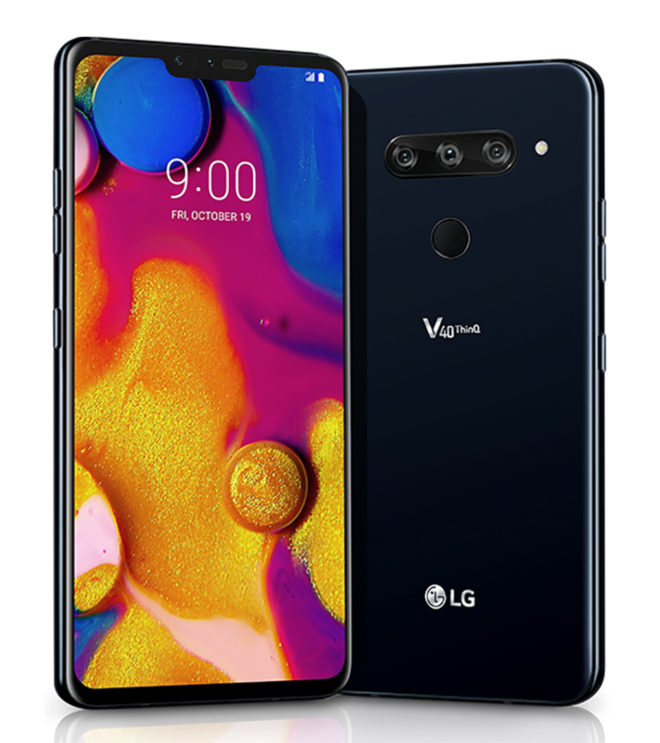 October is going to be a big month in mobile with several flagship smartphone releases, and today the first of those new devices has been made official.
Meet the LG V40 ThinQ. One of the highlights of LG's new flagship Android phone is that it has five — yes, five — total cameras. There's a triple rear camera setup that includes a 16MP 107-degree super wide angle lens, a 12MP standard angle sensor, and a 12MP telephoto lens with 2x optical zoom.
LG also points out that the pixel size of the main rear camera has been improved by 40 percent compared to the LG V30, and the image sensor is more than 18 percent larger. The main rear camera also offers an f/1.5 aperture and Dual Phase Detection Autofocus that gets you automatic focusing that's 50 percent faster.
Around front there are two cameras: an 8MP standard sensor with f/1.9 aperture and a 5MP 80-degree wide angle lens with an f/2.2 aperture.
LG has also added several software features into the V40 ThinQ to help you take advantage of those five cameras. Triple Shot will let you stitch together images captured with all three lenses to create a short video file, while Cine Shot will help you create cinemagraphs, or images with animation. Other features include 3D Light Effect, Makeup Pro, Custom Backdrop, and AR Emoji.
LG is placing a focus on the body of the V40 ThinQ, touting the Silky Blast process that it used to etch the tempered glass back of the phone with "microscopic pits" to give you a smooth matte finish that LG claims isn't slippery. The LG V40 ThinQ also includes IP68 water and dust resistance and meets the U.S. Department of Defense requirements for durability by passing 14 MIL-STD 810G Transit Drop Test categories.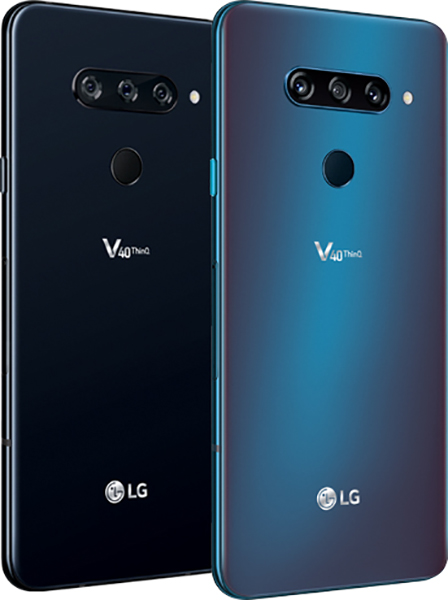 Audio has long been a focus of LG's V series phones, and that continues with the V40 ThinQ. This new flagship is packing a 32-bit Hi-Fi Quad DAC and the same Boombox Speaker feature found on the LG G7 ThinQ which utilizes the internal space of the phone to double its bass output. Also included is DTS:X 3D Surround Sound and, unlike some other flagships out there, a 3.5mm headphone jack is present.
Other raw specs of the LG V40 ThinQ are about what you'd expect from a flagship Android phone in 2018. There's a 6.4-inch 3120×1440 OLED display that LG says has a bottom bezel that's 1.6mm thinner than the LG V30's. Also included is a Snapdragon 845 processor paired with 6GB of RAM, 64GB or 128GB of built-in storage, and a microSD card slot. A 3300mAh battery is powering the whole package, and on the software side, LG is preloading Android 8.1 Oreo.
T-Mobile has confirmed that it will launch the LG V40 ThinQ. The new flagship will be available for pre-order starting October 12th and will launch in stores on October 19th. Pricing will be set at $200 down and $30 per month for 24 months on an Equipment Installment Plan or $200 down for well-qualified customers and $30 per month for 18 months with a JUMP! On Demand lease. Full retail pricing will be $920.
When it comes to connectivity, the LG V40 ThinQ does support T-Mobile's 600MHz LTE coverage, which can reach farther and is better at penetrating buildings than mid-band LTE. Also included is 4×4 MIMO, carrier aggregation, 256 QAM, and License Assisted Access.
So there's the LG V40 ThinQ. What do you thinq think of it? Will it be your next device?