After coming out on top in J.D. Power's Wireless Purchase Experience study at the start of 2018, T-Mobile has once again finished first in J.D. Power's report.
J.D. Power today released its 2018 U.S. Wireless Purchase Experience study, which examines customer purchase experience when they use one of three channels: phone calls, a retail store, or a website. The purchase experience satisfaction is measured in store sales representative, website, offerings and promotions, phone sales representative, store facility, and cost of service. This latest study was performed from January to June 2018.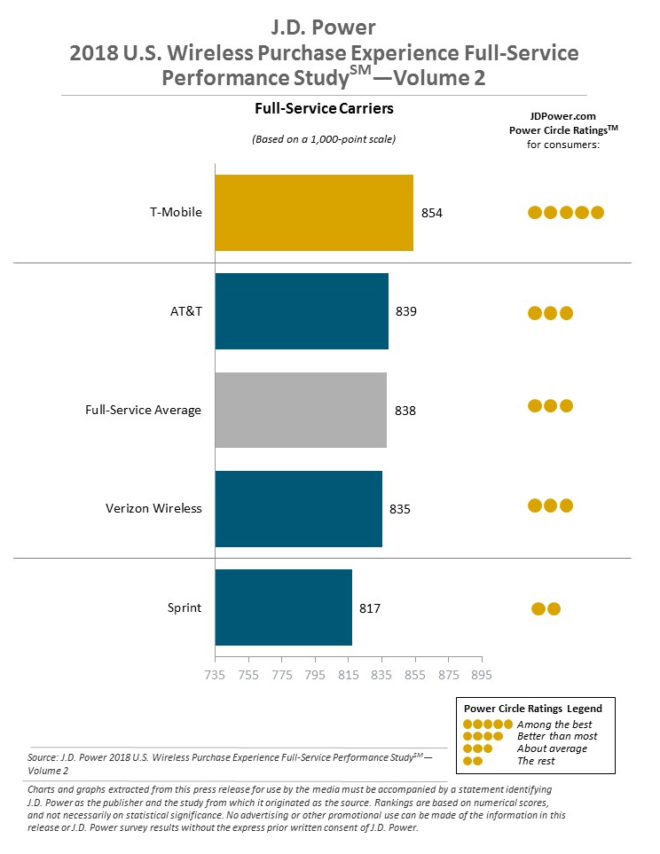 When it comes to the four major U.S. carriers, T-Mobile put up the highest score, finishing with a total of 854 points out of 1,000. That's one point less than the score T-Mo earned in the previous report. AT&T's score was 839, Verizon's was 835, and Sprint rounded things out with 817 points.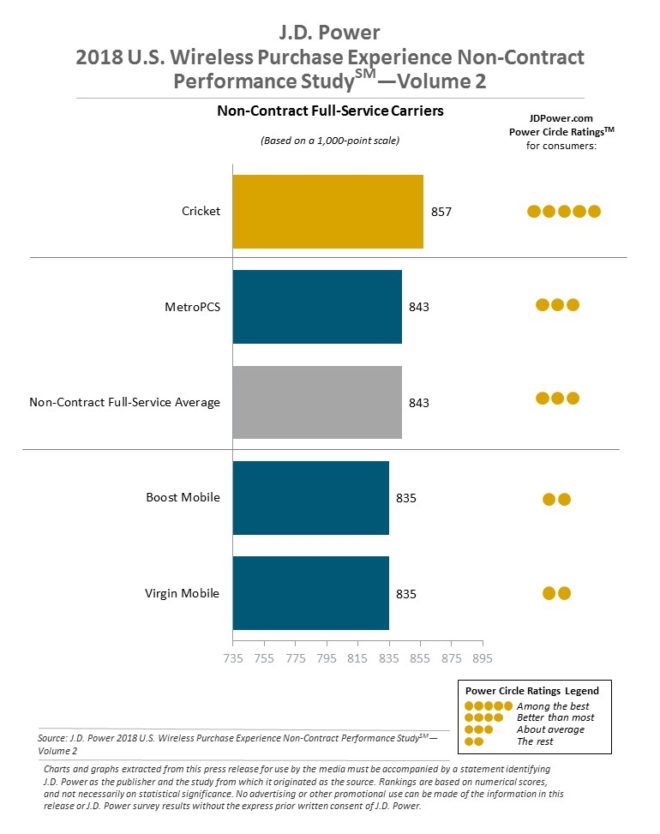 On the prepaid side, Cricket Wireless finished first with a score of 857 points, up from its third place finish with 849 points earlier this year. MetroPCS came in second with 843 points, down from 858 points in the previous report. Both Boost Mobile and Virgin Mobile finished with 835 points.
J.D. Power's report also found that customers who purchase from a non-carrier store are less satisfied than those who purchase at a carrier-owned store, yet one-third of wireless customers make purchases at non-carrier stores. Another tidbit worth mentioning is that Amazon accounts for 31 percent of all online purchases of devices and plans. Finally, J.D. Power says that customers find non-carrier websites easier to navigate and place an order on compared to carrier websites, with two-thirds of customers who use carrier websites saying that they require a lot of effort to make a purchase.
Source: J.D. Power