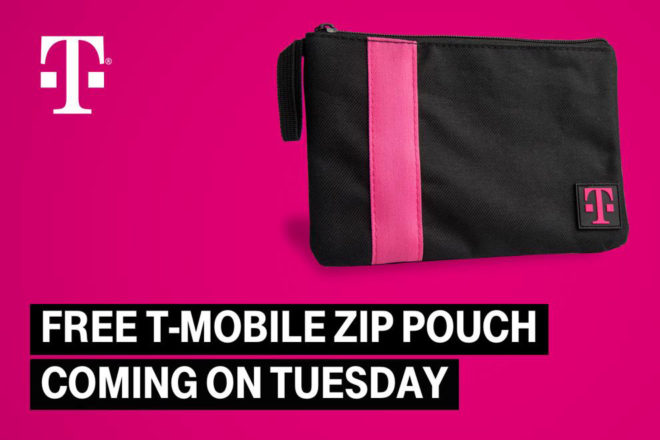 The gifts for next week's T-Mobile Tuesday have been revealed, and they include another piece of T-Mo-branded gear.
On Tuesday, August 21st, T-Mobile customers can get a free T-Mobile zip pouch. The pouch itself is black, but it includes a magenta stripe and a T-Mobile logo. It's unclear exactly how large the pouch is, but it could come in handy for carrying around stuff like chargers and cables.
Also coming next week is a $2 Baskin-Robbins promo card and 40 percent off plus free shipping at Puma.com.
Next week will also continue T-Mobile's fantasy baseball tournament. In it, you'll put together a fantasy baseball team at Fan Duel and try to score the more points than anyone else. There are several prizes available for finishing at certain positions:
Position Level: 1st Place
Prize Awarded: $1000
Position Level: 2nd Place
Prize Awarded: $500
Position Level: 3rd Place
Prize Awarded: $250
Position Level: 4th-5th Place
Prize Awarded: $10
Position Level: 6th-7th Place
Prize Awarded: $8
Position Level: 8th-10th Place
Prize Awarded: $6
Position Level: 11th-15th Place
Prize Awarded: $4
Position Level: 16th-25th Place
Prize Awarded: $3
Position Level: 26th-50th Place
Prize Awarded: $2
Position Level: 51st-95th Place
Prize Awarded: $1
Position Level: 96th-494th Place
Prize Awarded: $0.50
Position Level: 495th-2500th Place
Prize Awarded: $0.25
Source: T-Mobile Tuesdays