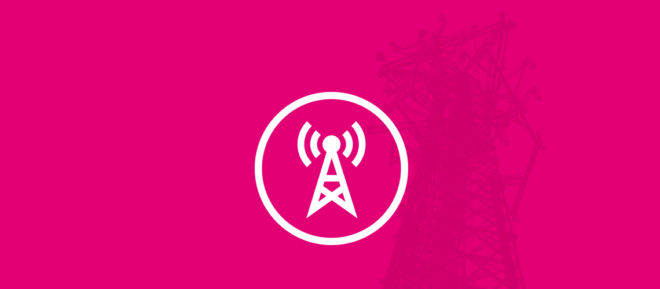 One week after T-Mobile announced a low-band LTE expansion, it's confirmed a round of mid-band LTE upgrades, too.
T-Mobile CTO Neville Ray says that T-Mo has upgraded hundreds of cell sites with mid-band LTE capacity in the last two weeks. These upgrades include both PCS and AWS spectrum.
100s of sites were upgraded with more midband capacity in just the last two weeks and #WeWontStop! This is why we've had the fastest LTE network for 4 years!! @TMobile @MetroPCS #Amped pic.twitter.com/G88DvbLBvf

— Neville (@NevilleRay) July 25, 2018
Some of the cities included in this latest round of mid-band LTE upgrades include Oakland, CA; Sarasota, FL; Portland, ME; and Cedar Falls, IA. As usual, you can find the full list of markets included with these upgrades below.
Is your city in this batch of mid-band LTE upgrades?
Dothan, AL
Phoenix, AZ
Stockton, CA
Oakland, CA
Vallejo, CA
San Ramon, CA
Antioch, CA
San Francisco, CA
Strathmore, CA
Norco, CA
Murrieta, CA
Moreno Valley, CA
Riverside, CA
San Marcos, CA
Thousand Oaks, CA
Los Angeles, CA
Franktown, CO
Aurora, CO
Sarasota, FL
Sebring, FL
Atlanta, GA
Acworth, GA
Smyrna, GA
Chicago, IL
Indianapolis, IN
Carmel, IN
Muscatine, IA
West Burlington, IA
Farmington, IA
Crawfordsville, IA
Bonaparte, IA
Burlington, IA
Oskaloosa, IA
Milton, IA
Eddyville, IA
Brighton, IA
Toledo, IA
Tama, IA
Rowley, IA
Monticello, IA
Marengo, IA
Keystone, IA
Delhi, IA
Chelsea, IA
Brooklyn, IA
Blairstown, IA
Belle Plaine, IA
Ainsworth, IA
Zwingle, IA
Peosta, IA
Manchester, IA
La Motte, IA
Farley, IA
Dyersville, IA
Cascade, IA
Bellevue, IA
Dubuque, IA
Evansdale, IA
Waterloo, IA
Winthrop, IA
Wellsburg, IA
Waverly, IA
Tripoli, IA
Traer, IA
Sumner, IA
Shell Rock, IA
Plainfield, IA
Parkersburg, IA
New Hartford, IA
La Porte City, IA
Lamont, IA
Jesup, IA
Janesville, IA
Independence, IA
Hudson, IA
Grundy Center, IA
Gladbrook, IA
Garwin, IA
Dike, IA
Cedar Falls, IA
Tracy, IA
Pleasantville, IA
Pella, IA
Otley, IA
Montour, IA
Monroe, IA
Knoxville, IA
Grinnell, IA
Ackworth, IA
Portland, ME
Windsor Mill, MD
Baltimore, MD
Gambrills, MD
Temple Hills, MD
Brentwood, MD
Stoughton, MA
Marshfield, MA
Rockford, MI
Lowell, MI
Burton, MI
Detroit, MI
Saint Paul, MN
Billings, MT
Las Vegas, NV
Portsmouth, NH
Howell, NJ
Palisades Park, NJ
Rociada, NM
Albuquerque, NM
Rochester, NY
Victor, NY
Buffalo, NY
West Babylon, NY
Uniondale, NY
West Hempstead, NY
Jamaica, NY
Queens Village, NY
Elmhurst, NY
Jackson Heights, NY
Brooklyn, NY
Long Island City, NY
New York, NY
Charlotte, NC
Waxhaw, NC
Killdeer, ND
Chesapeake, OH
Cincinnati, OH
Oklahoma City, OK
Plymouth Meeting, PA
Ambler, PA
Pittsburgh, PA
North Versailles, PA
Carolina, PR
Trujillo Alto, PR
Toa Baja, PR
San Juan, PR
Juana Diaz, PR
Naranjito, PR
Ponce, PR
Vega Baja, PR
Rincon, PR
Manati, PR
Isabela, PR
Cabo Rojo, PR
Aguadilla, PR
Knoxville, TN
Nashville, TN
Brownfield, TX
Austin, TX
Mission, TX
Boerne, TX
League City, TX
Santa Fe, TX
Houston, TX
San Angelo, TX
Fort Worth, TX
Paris, TX
Flower Mound, TX
Chesapeake, VA
Fairfax, VA
Dumfries, VA
Leesburg, VA
Herndon, VA
Ashburn, VA
Eastsound, WA
Charleston, WV
Elkview, WV
Source: Neville Ray (Twitter)