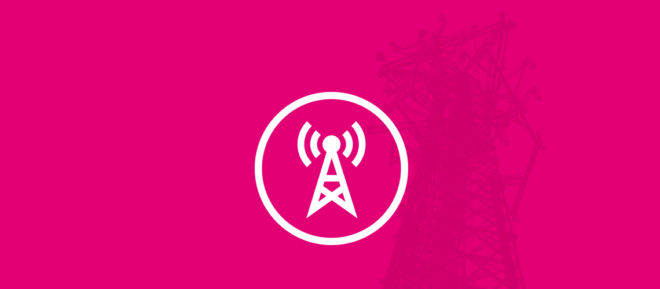 Two weeks after T-Mobile last announced a round of mid-band LTE upgrades, another batch has been confirmed.
T-Mobile CTO Neville Ray has confirmed that T-Mo has rolled out mid-band LTE capacity upgrades to "hundreds" of cell sites over the past two weeks. These upgrades include both PCS and AWS spectrum.
100s of sites were upgraded with more midband capacity in just the last two weeks and #WeWontStop! This is why we've had the fastest LTE network for 4 years!! @TMobile @MetroPCS #Amped pic.twitter.com/TCIopzNmGP

— Neville (@NevilleRay) June 15, 2018
Included in this latest round of upgrades are cities and towns like Scottsdale, AZ; Van Nuys, CA; Pensacola, FL; and Cambridge, MA. You can find the full list of markets included in this batch of upgrades below.
Oatman, AZ
Sedona, AZ
Goodyear, AZ
Gilbert, AZ
Tempe, AZ
Scottsdale, AZ
Casa Grande, AZ
Phoenix, AZ
Springdale, AR
Rogers, AR
Lincoln, AR
Costa Mesa, CA
San Bernardino, CA
Fontana, CA
Big Bear Lake, CA
San Diego, CA
Vista, CA
El Cajon, CA
Carlsbad, CA
Imperial Beach, CA
West Covina, CA
Walnut, CA
Upland, CA
Pomona, CA
Monterey Park, CA
La Puente, CA
South El Monte, CA
Studio City, CA
Burbank, CA
Panorama City, CA
Van Nuys, CA
Westlake Village, CA
Valencia, CA
Sun Valley, CA
Glendale, CA
Pasadena, CA
Paramount, CA
Lakewood, CA
Norwalk, CA
Whittier, CA
Santa Monica, CA
Inglewood, CA
Gardena, CA
Culver City, CA
Los Angeles, CA
Grand Junction, CO
Yuma, CO
Berthoud, CO
Denver, CO
Greenwich, CT
East Hartford, CT
Enfield, CT
South Windsor, CT
Washington, DC
Port Richey, FL
Arcadia, FL
Naples, FL
Tampa, FL
Pensacola, FL
Bainbridge, GA
Pocatello, ID
Champaign, IL
Bloomington, IL
Loves Park, IL
Rockford, IL
Niles, IL
Chicago, IL
Plainfield, IL
Lisle, IL
Batavia, IL
Homer Glen, IL
Steger, IL
Orland Park, IL
Morris, IL
Mokena, IL
Lockport, IL
Lemont, IL
Frankfort, IL
Blue Island, IL
Crest Hill, IL
Saint Charles, IL
Wadsworth, IL
Richmond, IL
Northbrook, IL
Lake Villa, IL
Gurnee, IL
Arlington Heights, IL
Lake Station, IN
Valparaiso, IN
Michigan City, IN
Avon, IN
Wichita, KS
Lenexa, KS
Leawood, KS
Osawatomie, KS
Shreveport, LA
Marrero, LA
Baltimore, MD
Odenton, MD
Hanover, MD
Bethesda, MD
Laurel, MD
Taunton, MA
North Attleboro, MA
Weston, MA
Belmont, MA
Watertown, MA
Waban, MA
Newton Center, MA
Waltham, MA
Brookline, MA
Braintree, MA
Quincy, MA
Medford, MA
Winthrop, MA
Malden, MA
Cambridge, MA
Brighton, MA
West Roxbury, MA
Roslindale, MA
Charlestown, MA
Mattapan, MA
Roxbury, MA
Boston, MA
Foxboro, MA
Dedham, MA
Saugus, MA
Winchester, MA
Wakefield, MA
North Andover, MA
Lawrence, MA
Haverhill, MA
Chelmsford, MA
Andover, MA
Woburn, MA
Natick, MA
Springfield, MA
Atlantic Mine, MI
Allouez, MI
Traverse City, MI
Wyoming, MI
Grand Rapids, MI
Flint, MI
Sterling Heights, MI
Ferndale, MI
Detroit, MI
Ann Arbor, MI
Rochester, MN
Minneapolis, MN
Chaska, MN
Saint Paul, MN
Rogersville, MO
Branson, MO
Kansas City, MO
Grand View, MO
Saint Charles, MO
Saint Louis, MO
Fenton, MO
Shelby, MT
Ismay, MT
Reno, NV
Las Vegas, NV
North Las Vegas, NV
Henderson, NV
Nashua, NH
Manville, NJ
Absecon, NJ
Lumberton, NJ
Bellmawr, NJ
Clementon, NJ
Flanders, NJ
Keyport, NJ
Asbury Park, NJ
Ridgefield Park, NJ
Midland Park, NJ
Little Falls, NJ
Elizabeth, NJ
North Bergen, NJ
Lincoln Park, NJ
Kearny, NJ
Bayonne, NJ
Rochester, NY
Buffalo, NY
Holmes, NY
Melville, NY
Commack, NY
Valley Stream, NY
Uniondale, NY
Hempstead, NY
Long Island City, NY
Manhasset, NY
Franklin Square, NY
Yonkers, NY
Cold Spring, NY
Brewster, NY
Bronx, NY
Staten Island, NY
New York, NY
Jacksonville, NC
Kinston, NC
Berthold, ND
Vincent, OH
Ironton, OH
Rootstown, OH
Maple Heights, OH
Cleveland, OH
Columbus, OH
Sapulpla, OK
Guymon, OK
Balko, OK
Pottstown, PA
Harleysville, PA
King of Prussia, PA
Bridgeport, PA
Avondale, PA
Hatboro, PA
Huntingdon Valley, PA
Middletown, PA
Catano, PR
San Juan, PR
San Lorenzo, PR
Mayaguez, PR
Johnston, RI
Smithfield, RI
Britton, SD
Knoxville, TN
Alcoa, TN
Nashville, TN
Kingston Springs, TN
El Paso, TX
Austin, TX
Mission, TX
San Antonio, TX
Converse, TX
Laredo, TX
Missouri City, TX
Cypress, TX
Plantersville, TX
Houston, TX
Wichita Falls, TX
Midlothian, TX
Grapevine, TX
Green River, UT
Layton, UT
Hampton, VA
Richmond, VA
Alexandria, VA
Woodbridge, VA
Reston, VA
Sterling, VA
Milton, WI
Racine, WI
Milwaukee, WI
Pleasant Prairie, WI
Muskego, WI
Hartland, WI
Gillette, WY
Source: Neville Ray (Twitter)