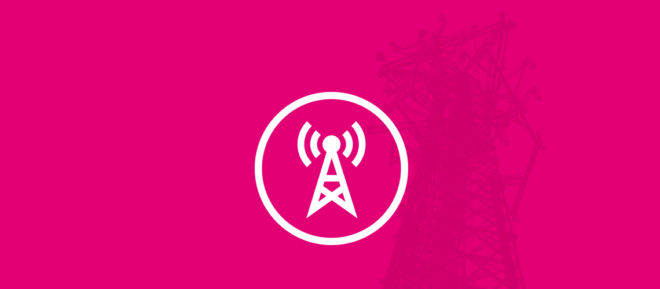 Two weeks after T-Mobile CTO Neville Ray last announced a round of mid-band LTE upgrades, it's been confirmed that another batch of upgrades has been made.
Ray just revealed that T-Mobile has upgraded more of its cell sites with mid-band LTE capacity in the past two weeks. As with previous mid-band LTE upgrades, this latest round of upgrades includes both PCS and AWS spectrum.
100s of sites were upgraded with more midband capacity in just the last two weeks and #WeWontStop! This is why we've had the fastest LTE network for 4 years!! @TMobile @MetroPCS #Amped pic.twitter.com/N9uSf2dwd3

— Neville (@NevilleRay) May 16, 2018
Some of the locations that've gotten mid-band LTE upgrades include Phoenix, AZ; Indianapolis, IN; Austin, TX; and New York, NY. The full list of cities and towns included in this round of mid-band LTE upgrades can be found below.
Fort Smith, AR
Rogers, AR
Pea Ridge, AR
Little Rock, AR
Sherwood, AR
North Little Rock, AR
Mabelvale, AR
Prescott, AZ
Goodyear, AZ
Tempe, AZ
Phoenix, AZ
Los Angeles, CA
Vail, CO
Woodland Park, CO
Berthoud, CO
Longmont, CO
Denver, CO
Monument, CO
Stamford, CT
Wilton, CT
Westport, CT
Old Greenwich, CT
Norwalk, CT
Darien, CT
Danbury, CT
Stratford, CT
West Hartford, CT
South Windsor, CT
Manchester, CT
Berlin, CT
Farmington, CT
Bloomfield, CT
Washington, DC
Newark, DE
Claymont, DE
Ocala, FL
Arcadia, FL
Sarasota, FL
Naples, FL
Lehigh Acres, FL
Punta Gorda, FL
Tampa, FL
Valrico, FL
Lake Worth, FL
West Palm Beach, FL
Miami, FL
Opa Locka, FL
Coleman, GA
Albany, GA
Monticello, GA
Augusta, GA
Athens, GA
Atlanta, GA
Decatur, GA
Conyers, GA
Boise, ID
Nampa, ID
Springfield, IL
Columbia, IL
Belvidere, IL
Chicago, IL
Naperville, IL
Orland Park, IL
Frankfort, IL
Blue Island, IL
Saint Charles, IL
River Grove, IL
Hanover Park, IL
Waukegan, IL
Wauconda, IL
Lake Zurich, IL
Lake Villa, IL
Crystal Lake, IL
Rolling Meadows, IL
Fair Oaks, IN
Bloomington, IN
South Bend, IN
Valparaiso, IN
Indianapolis, IN
Lenexa, KS
Leawood, KS
Prairie Village, KS
Mission, KS
Olathe, KS
Salisbury, MD
Annapolis, MD
Linthicum Heights, MD
Upper Marlboro, MD
Suitland, MD
Bowie, MD
Waldorf, MD
North Dartmouth, MA
Kingston, MA
Medford, MA
Everett, MA
Brighton, MA
Jamaica Plain, MA
Boston, MA
Roxbury, MA
Marblehead, MA
Lynnfield, MA
Lynn, MA
Woburn, MA
Worcester, MA
Wakefield, MI
Iron River, MI
Ewen, MI
Decatur, MI
Portage, MI
Grosse Pointe, MI
Detroit, MI
Riverview, MI
Canton, MI
Plymouth, MI
Franklin, MI
Duluth, MN
Grand Portage, MN
Minneapolis, MN
Jordan, MN
Chaska, MN
Anoka, MN
Saint Paul, MN
South Saint Paul, MN
Rosemount, MN
Northfield, MN
Newport, MN
Lakeville, MN
Hugo, MN
Rogersville, MO
Branson, MO
Kansas City, MO
Independence, MO
Saint Peters, MO
O Fallon, MO
Saint Charles, MO
Saint Louis, MO
Cut Bank, MT
Sidney, MT
Reserve, MT
Culvertson, MT
Livingston, MT
Omaha, NE
Las Vegas, NV
Round Mountain, NV
Henderson, NV
Nashua, NH
Brick, NJ
Lakewood, NJ
Jackson, NJ
Mays Landing, NJ
Dover, NJ
Keyport, NJ
Bogota, NJ
Wayne, NJ
Hamburg, NJ
Mountainside, NJ
Rutherford, NJ
Colonia, NJ
Maplewood, NJ
Espanola, NM
Navajo, NM
Albuquerque, NM
Corning, NY
Rochester, NY
Buffalo, NY
Sharon Springs, NY
Syracuse, NY
Hunter, NY
Woodbury, NY
Ronkonkoma, NY
Islip, NY
Rockville Centre, NY
West Hampstead, NY
Jamaica, NY
East Elmhurst, NY
Brooklyn, NY
New Hyde Park, NY
Spring Valley, NY
New Rochelle, NY
Tarrytown, NY
Elmsford, NY
Carmel, NY
New York, NY
Charlotte, NC
Raleigh, NC
Akron, OH
Cleveland, OH
Mentor, OH
Chagrin Falls, OH
Columbus, OH
Dublin, OH
Stigler, OK
Oklahoma City, OK
Pottstown, PA
Lansdale, PA
Fairless Hills, PA
Bensalem, PA
Quakertown, PA
Tamaqua, PA
York, PA
Carlisle, PA
Guaynabo, PR
Catano, PR
Toa Baja, PR
San Juan, PR
Vieques, PR
Cayey, PR
Ponce, PR
Mayaguez, PR
Manati, PR
Hormigueros, PR
Dorado, PR
West Warwick, RI
Warwick, RI
North Augusta, SC
Columbia, SC
Holladay, TN
Knoxville, TN
Nashville, TN
Woodbury, TN
El Paso, TX
Lubbock, TX
Austin, TX
Del Valle, TX
Brownsville, TX
San Antonio, TX
Sonora, TX
Abbott, TX
Wichita Falls, TX
Roanoke, TX
Fort Worth, TX
Cumby, TX
Dallas, TX
Wylie, TX
Plano, TX
Spanish Fork, UT
Salt Lake City, UT
Sandy, UT
Roseland, VA
Alexandria, VA
Triangle, VA
Great Falls, VA
Reston, VA
Glenville, WV
Mullens, WV
Williamson, WV
Charleston, WV
Millwood, WV
Kenna, WV
Fraziers Bottom, WV
Crandon, WI
White Lake, WI
Tomahawk, WI
Stratford, WI
Rothschild, WI
Somerset, WI
Waukesha, WI
Source: Neville Ray (Twitter)