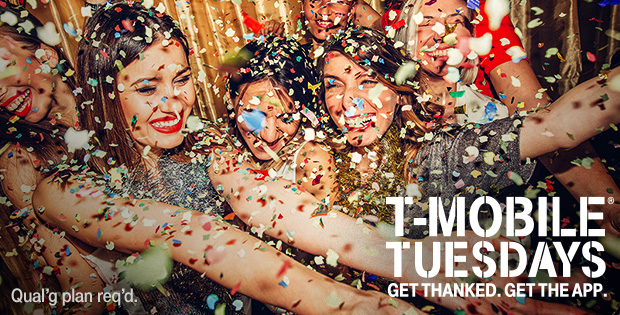 Wondering what gifts T-Mobile Tuesday will follow-up with after offering $4 tickets to Deadpool 2? Now we know the answer.
For the May 22nd edition of T-Mobile Tuesdays, T-Mo customers can get a $2 promo card for Baskin-Robbins and a Buy One, Get One deal on Ocean Spray drinks. Also coming next week are savings at Shell gas stations and a $50 Amazon gift card per night offer from HotelStorm.
Rounding out next week's gifts is 90 days of Pandora Premium for free. Normally priced at $9.99 per month, Pandora Premium includes on-demand listening, the ability to create playlists, offline listening, unlimited skips, high-quality audio, and an ad-free experience.
There will be 10 grand prize winners next week, each of which will get an LG G7 ThinQ and a check worth $320 for mobile service or other expenses. The LG G7 ThinQ is a new Android flagship with a 6.1-inch 3120×1440 display, dual rear camera setup with AI features, and a Snapdragon 845 processor. You can learn more about the LG G7 ThinQ right here.
Source: T-Mobile Tuesdays