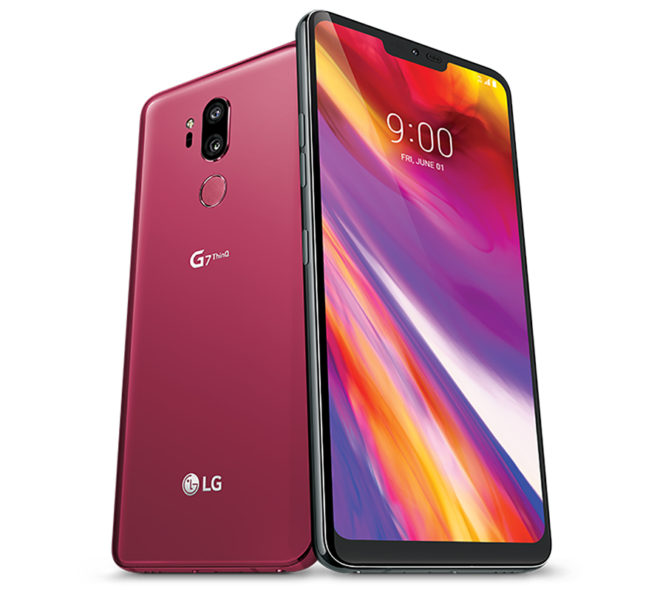 After confirming earlier this month that it'll sell the LG G7 ThinQ, T-Mobile today shared its launch and pricing details for the new Android flagship.
The LG G7 ThinQ will be available from T-Mobile on June 1st. If you know that you want to make the G7 ThinQ your next daily driver, you'll be able to pre-order starting this Friday, May 25th, at 5:00 am PT/8:00 am ET.
Pricing for the LG G7 ThinQ will be set at $30 down and $30 per month for 24 months on an Equipment Installment Plan. The G7 ThinQ's JUMP On Demand! price will be $0 down and $33 per month, while full retail pricing will be $750.
T-Mo will have a special LG G7 ThinQ deal available when pre-orders open on Friday. Customers who buy two LG G7 ThinQs on EIP can get the second one for free via 24 monthly bill credits.
Also of note is that T-Mobile says that it'll be the only carrier to offer the LG G7 ThinQ at Raspberry Rose.
As a refresher, the LG G7 ThinQ runs Android 8.0 on a 6.1-inch 3120×1440 display. It's got a dual rear camera setup with one 16MP f/1.6 camera and one wide angle 16MP f/1.9 aperture, a Snapdragon 845 processor, 4GB of RAM, 64GB of storage, and a microSD card slot. Rounding out the spec list is a 3.5mm headphone jack, a Snapdragon 845 processor, IP68 water and dust resistance, and a 3000mAh battery.
The LG G7 ThinQ is also the newest phone that supports T-Mobile's 600MHz LTE coverage as well as network features like 4×4 MIMO and 256 QAM.
Source: T-Mobile