One month after releasing iOS 11.3.1, Apple has unleashed an update to iOS 11.4.
iOS 11.4 is now available for the iPhone and iPad. If you've got an iOS 11 device, you can update to iOS 11.4 by going into Settings > General > Software Update on your phone or tablet.
The update to iOS 11.4 brings with it a few notable new features. This includes AirPlay 2, which improves Apple's wireless audio tech with a bigger buffer so that small network issues don't interrupt your playback and a tighter clock sync between devices to enable multi-room audio on the HomePod and AirPlay 2-enabled speakers.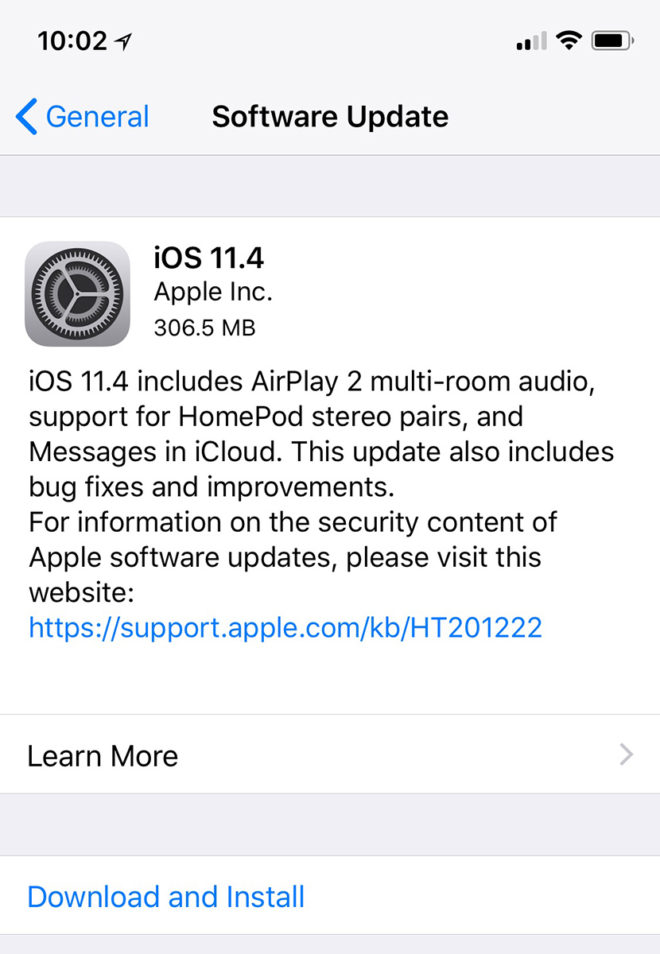 iOS 11.4 also includes stereo support for the HomePod, letting you set up two HomePod speakers as a stereo pair.
Messages in iCloud is coming with iOS 11.4 as well. With this feature, your iMessages will be synced across your Mac and iOS devices so that your conversations are always up-to-date. To enable Messages in iCloud, you'll need to go into Settings > [your name] > iCloud and then flip the "Messages" toggle in the "Apps Using iCloud" list.
Apple has included some unspecified bug fixes and improvements in iOS 11.4 as well. The Carrier Settings version remains on 32.
watchOS 4.3.1 for the Apple Watch is now available, too. This update fixes a bug that'd cause the Apple Watch to get stuck at the Apple logo at startup. You can download watchOS 4.3.1 by going into the Watch app on your iPhone and then selecting General > Software Update.
UPDATE: Here's the list of the bug fixes included in the iOS 11.4 update:
Enables teachers to assign their students reading activities in iBooks using the Schoolwork app
Fixes an issue where certain character sequences could cause Messages to crash
Addresses a Messages issue that could cause some messages to appear out of order
Addresses an issue that could prevent logging in or accessing files on Google Drive, Google Docs and Gmail in Safari
Fixes an issue that could prevent data syncing in Health
Fixes an issue that could prevent users from changing what apps can access Health data
Resolves an issue that could cause an app to appear in an incorrect location on the Home screen
Fixes an issue where CarPlay audio could become distorted
Fixes an issue where selecting music from your iPhone could fail when playing music over Bluetooth or when connected to USB on some vehicles