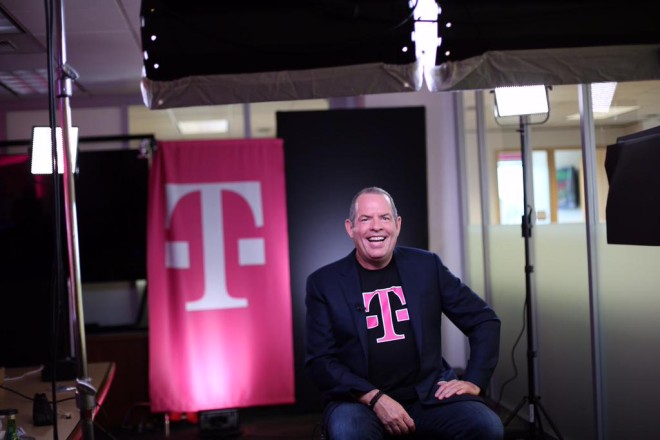 Last year, T-Mobile made news when it dropped $8 billion on 600MHz spectrum in an FCC auction. Now one T-Mo executive says that the carrier will likely spend a few billion more for additional spectrum in the near future.
Speaking at an investor event this week, T-Mobile CFO Braxton Carter said that T-Mo will likely receive a "massive explosion in cash" over the next 7 to 8 years due to the tax reform legislation that was recently passed by the U.S. government. The total could reach $7 billion.
As for what T-Mobile might do with its infusion of cash, Carter said that "There's going to be a few billion dollars in spectrum acquisitions that are on the horizon." He added that T-Mobile will "certainly" take part in upcoming government spectrum auctions because there's not many private transactions available, and he specifically mentioned that T-Mo will be going after 3.5GHz spectrum. That said, Carter cautioned that T-Mo won't be spending quite like it did in the FCC's 600MHz auction, explaining that "that was a game changer."
Carter also said that T-Mobile said that a "return to shareholders is a true reality" when considering what else to do with T-Mo's cash.
One thing that T-Mo won't be doing with its cash is buy a media company, with Carter saying that T-Mobile has no interest in owning or developing its own media entity. "Enabling that content to be curated by the consumer is really our approach," the CFO said.
Spectrum is a hot commodity for carriers, and so it's no surprise that T-Mobile plans to use it's upcoming billions to get even more spectrum. Still, it's good to hear that with 4G LTE network improvements still happening and a 5G rollout coming soon, T-Mobile plans on spending some cash to grow its spectrum portfolio.
Source: FierceWireless