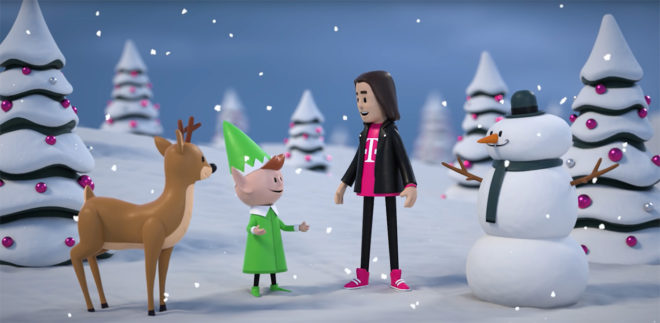 Remember that claymation holiday video that T-Mobile launched last year called AT&T and Verizon "abominable carriers" and "major misers"? It turns out that AT&T didn't care for the video, and so filed a complaint with the National Advertising Division.
AT&T says that T-Mobile's holiday video includes "unsubstantiated, false, and misleading claims, and disparages and denigrates AT&T." T-Mobile denied that the video made any claims about current business practices and argued that this isn't the type of ad that the NAD is designed to review. The NAD should close its investigation, added T-Mo, because AT&T's challenge was without merit.
The NAD disagreed with T-Mobile's argument, saying that the holiday video compares T-Mo's service to its competition, specifically mentions AT&T, and makes comparative claims that are normally investigated by the NAD.
T-Mobile opted not to take part in the self-regulatory process with regard to AT&T's complaint, and so the NAD has referred the video's claims to the Federal Trade Commission and Federal Communications Commission for further review.
T-Mobile hasn't issued an official announcement about the NAD's actions, but CEO John Legere did share a comment on his Twitter account:
HAHAHAHAHA – @ATT?? You're complaining about a Claymation holiday video??? Totally something a major miser would do!! https://t.co/QZG2mA5yrf

— John Legere (@JohnLegere) February 16, 2018
We'll have to wait and see how this whole situation plays out now that the FTC and FCC are getting involved. Until then, you can watch T-Mobile's holiday ad and judge it for yourself below.
Via: PhoneArena
Source: ASRC