Usually when Apple releases a new iOS update, it's done so in the middle of the day on a Monday or Tuesday. That's not the case with iOS 11.2.
Apple released iOS 11.2 at around 12:00 am PST on Saturday. The update is available to the iPhone 5s and later, the iPad Air and later, and the iPod touch 6th generation.
To download iOS 11.2, grab your iOS device and go into Settings > General > Software Update.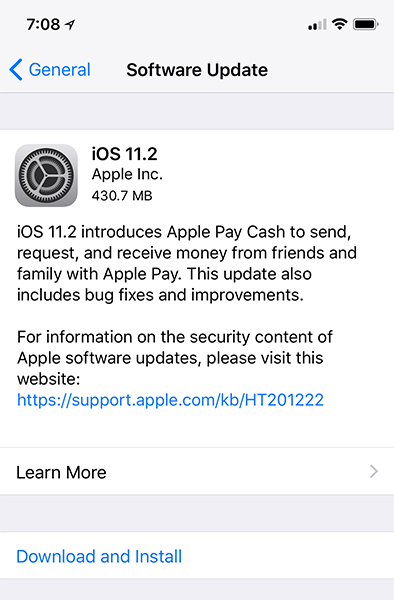 Apple hasn't officially said why it decided to push iOS 11.2 in the early hours of a Saturday morning, but it's likely related to an iOS date crash. An Apple support document explains that some devices would repeatedly restart on and after December 2, 2017 due to a bug that is related to local notifications. If you're running an iOS version earlier than 11.2, Apple recommends turning off all notifications to avoid this bug.
Also included with this update is support for peer-to-peer payments with Apple Pay Cash. However, the feature doesn't appear to be live quite yet. iMore's Rene Ritchie suggests that Apple Pay Cash will launch early next week, likely when iOS 11.2 was originally slated to be released.
iOS 11.2 adds faster 7.5W wireless charging to the iPhone 8, iPhone 8 Plus, and iPhone X as well as three new live wallpapers for iPhone X, improved video camera stabilization, and a Podcasts app feature that'll automatically advance to the next episode from the same show.
There are also some notable bug fixes included in the iOS 11.2 update. Apple addresses an issue where the keyboard could respond slowly, it fixed a Messages bug that could cause the keyboard to overlap the most recent message, and it fixed a bug in the Calculator app where entering numbers quickly could lead to an incorrect answer being displayed.